On former battlefield, Kuwaiti investor plans date palm groves, ostrich and deer reserve
Comments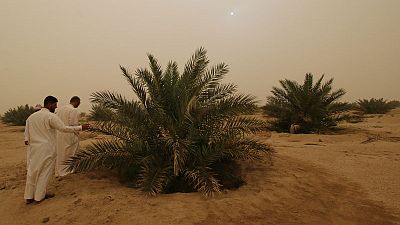 By Ulf Laessing
SOUTHERNBADIA, Iraq (Reuters) – On a former battlefield of the 1991 Gulf War, deep in Iraq's southern desert, a Kuwaiti investor is looking to grow 100,000 date palms and build a nature reserve complete with ostriches and deer.
Few Kuwaiti firms have returned to do business in Iraq since Saddam Hussein's 1990 invasion of its smaller neighbour and its U.N.-led liberation a year later.
But businessman Abdul-Aziz al-Babtain is pouring $58 million (43.19 million pounds) into a date farm project in southern Badia, some 150 km from the port city of Basra, officials said.
"We hope to have 100,000 (trees) in the next five to six years," said Diyah Sharadeh, Babtain's representative in Iraq, adding that the dates would first be sold in Iraq and later exported.
So far 5,000 date trees have been planted.
Iraq once produced three-quarters of the world's output of dates but now accounts for 5 percent after decades of conflict, despite being home to around 350 types of date tree.
Babtain had begun the farm in the 1980s, a sign at his office shows.
But Iraq seized it after the 1990 invasion, and due to its proximity to the Kuwaiti border it turned the area into a military zone, digging trenches for heavy guns.
These were then bombed in air strikes as part of Kuwait's liberation campaign, but authorities never cleaned up the trenches, leaving bullets and parts of tank turrets rusting away just outside the field.
In a bid to turn a new leaf, Iraq returned the farm to Babtain and granted his business tax exemptions.
"This will be the first private (date) investment project in Iraq," said Ali Ghasseb, head of the Basra Investment Commission. "It was a farm, then became a battlefield and is now again a farm."
The farm has created some 50 jobs in this desolate area and will need up to 500 workers once the trees begin producing.
In a second step, Babtain plans to set up a natural reserve for which ostriches and deer will be imported, Sharadeh said.
THAW
Ties between Kuwait and Iraq remained strained even after Saddam was toppled in a U.S.-led invasion in 2003, but they have improved since, with the Gulf state hosting in February a donor conference to rebuild Iraq.
But Kuwaiti firms have been reluctant to return, demanding guarantees that their business will not be taken away again. There is only one other Kuwaiti investor in Basra, involved in a shopping mall, Ghasseb said.
But trade has picked up in recent years as foreign firms use Kuwait's port to ship goods to Iraq due to its better security. Up to 200 vehicles cross the border at the Safwan post every day, an Iraqi officer said.
Kuwaiti visitors are also trickling back to the Shi'ite Muslim holy cities of Najaf and Kerbela. A third of Kuwaitis are Shi'ites.
In the other direction there is little private traffic as Kuwait rarely grants visitor visas for Iraqis for security reasons.
"I come twice a year. There are no problems for Kuwaitis now," said a Kuwaiti who gave his name as Mohamed after crossing the border to make a pilgrimage to Nawaf.
(Reporting by Ulf Laessing; Editing by Hugh Lawson)
euronews provides breaking news articles from reuters as a service to its readers, but does not edit the articles it publishes. Articles appear on euronews.com for a limited time.