Venezuela's decimated 'Resistance' protesters stay off streets for election
Comments
By Reuters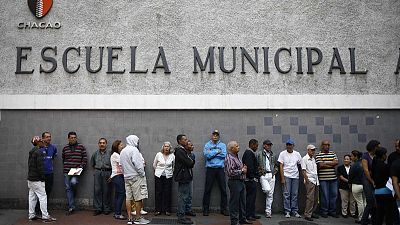 By Brian Ellsworth and Anggy Polanco
SANCRISTOBAL, Venezuela (Reuters) – Activists in Venezuela's western state of Tachira have for years been at the forefront of demonstrations against President Nicolas Maduro and helped lead violent protests during an election last year to create an all-powerful legislature.
But youth demonstrators dubbed "The Resistance" don't plan to be on the streets on Sunday, when Maduro stands for re-election in a vote that the opposition has called a fraud.
Most won't even be in the country.
Their ranks have been decimated by emigration as a police crackdown has left many in jail or seeking to avoid it, and a hyperinflationary economic crisis has led many to seek reprieve in neighbouring Latin American nations.
"I had to leave my country because of the persecution of my companions and family members, and because of the lack of jobs and terrible economy," William Quintero, 32, an activist who this month moved to Colombia, said via text message.
"As long as this leftist government remains in power, I don't see it as a country of opportunities."
Nationwide protests in 2014 first began in Tachira's capital San Cristobal, with Maduro's critics building barricades throughout the hilly Andean city where inhabitants have traditionally been known for being reserved and courteous.
A second wave of protests across the country in 2017 lasted for four months, culminating in the July election of a legislature known as the Constituent Assembly that has given the ruling Socialist Party unchecked powers.
Maduro's government has imprisoned dozens of opposition leaders ranging from mayors to university student agitators. The opposition calls them political prisoners, but Maduro says they are terrorists seeking to overthrow him.
"Seventy percent of the protesters left the country in 2015, and the rest left in 2017," said Miguel Garcia, 26, who was active in both rounds of protests.
He left for Chile after his brother was jailed by intelligence agents in what human rights groups called an arbitrary detention.
"We're sure that when the government falls, the doors will be open and that's when we can come back to the country," Garcia said.
PROTESTERSMIGRATE
Maduro on Sunday faces challenger Henri Falcon, who is ignoring a boycott of the vote by the opposition Democratic Unity coalition, which says the ballot is prone to fraud by the Socialist Party.
The coalition said it would not even be in a position to document potential fraud because the vote was called on such short notice that it did not have time to prepare a network of polling station witnesses.
Some opposition activists have said they will gather at polling stations and urge people not to vote, but are not planning wide-scale demonstrations.
Maduro insists the election will be free and fair, and accuses the opposition of refusing to participate because it knows it cannot win.
Polls show his approval rating hovering near 20 percent due to anger over 14,000 percent annualised inflation, chronic shortages of food and medicine and the rising incidence of malnourishment and preventable diseases.
A government assistance programME created by Maduro delivers boxes of basic goods such as cooking oil and rice, but it is plagued with complaints that it favours those who support the Socialist Party.
Maduro's government insists it is the victim of an "economic war" led by opposition leaders with the help of Washington.
Fernando Marquez, 24, is a member of the opposition party Popular Will and one of the few street activists who remain in San Cristobal. He said the opposition's inability to develop a clear strategy against Maduro has demotivated protesters and caused the movement to wither.
"Last year we were a large army, a youth army with a rebellious spirit fighting against a dictatorship," said Marquez, who acknowledged that nearly all of his friends are now out of the country.
Instead of demonstrating on Sunday, he said, activists plan to monitor poll stations for irregularities.
"This isn't an election, it's a fraud. If we protest we would be recognising it as an election," he said.
See graphics on upcoming elections in Latin America http://fingfx.thomsonreuters.com/gfx/rngs/VENEZUELA-ELECTION-ABSTENTION/0100700M01D/index.html and in Venezuela http://fingfx.thomsonreuters.com/gfx/rngs/VENEZUELA-ELECTION/0100703N08H/index.html.
(Editing by Angus Berwick and Daniel Wallis)