Puigdemont flees Finland amid arrest fears
Comments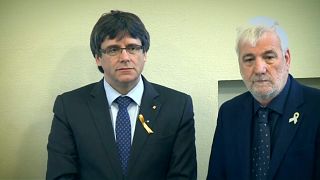 The former Catalan leader Carles Puigdemont has fled Finland before authorities there could act on a warrant to arrest him.
Arriving in Belgium he is said to be planning to cooperate with authorities regarding Spain's attempts to extradite him.
If he returns to the country, Puigdemont faces up to 25 years in prison on charges of rebellion and sedition for his part in organising a referendum on secession last year.
Puigdemont went into self-imposed exile in Belgium last year, shortly after the Catalan parliament made a symbolic declaration of independence from Spain.
He arrived in Finland on Thursday to meet lawmakers and attend a conference.