Three women with legal actions against Trump. Who poses the greatest danger?
Comments
By Danny Cevallos with NBC News Politics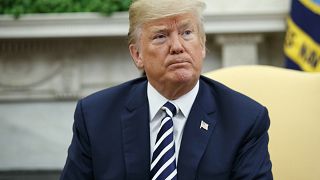 -
Legal analysis
President Donald Trump now has two additional lawsuits to contend with, in addition to the complaint recently filed by adult film star Stormy Daniels.
Fitness expert and former Playboy model Karen McDougal has filed a complaint in California state court seeking declaratory judgment and relief from a licensing agreement with AMI, the owner of the National Enquirer, which allegedly acquired the rights to and never published — a practice known as "caught and killed" — the story of her alleged liaison with Trump.
Meanwhile, a New York judge has denied a motion by Trump to dismiss a defamation case against him by former "Apprentice" contestant Summer Zervos, who claims Trump made defamatory statements about her.
Which of these three cases present the greatest threat to Trump and his presidency?
The answer: The first case to get him into discovery, and a deposition, where he would answer questions under oath. If a litigant can depose Trump, they likely will depose Trump. So which one of the three has the best chance? Let's take a look.
Karen McDougal
Her case is similar to Daniels' in that both are asking a court for a declaration of their rights under certain contracts. But McDougal's legal situation differs from my Daniels' in several aspects.
First, at the core of this dispute is not a settlement agreement or a nondisclosure agreement. It's a licensing agreement.
AMI paid McDougal to license her story, much the way a company might pay a recording artist to license a song. The language in the contract is harsh, and unsurprisingly slanted toward AMI, which is run by David Pecker, a friend of the president.
Under the contract, McDougal grants the rights to any story about any physical relationship she has ever had with "any then-married man." The grant of rights to her story to AMI was complete and exclusive. Importantly, McDougal reserved none of the rights in her own story — which means her own tale was no longer hers to tell, under the contract.
McDougal is now asking a state court to declare the AMI contract void from its inception — or void "ab initio" — for three reasons: (1) there was "fraud in the execution" — she was fraudulently denied knowledge of the essential terms of the contract; (2) the contract was essentially for an illegal corporate contribution, which makes the contract illegal; and (3) it's against public policy.
To prove fraud in the execution, McDougal will have to show she signed the contract without knowledge or without reasonable opportunity to learn of its essential terms. This allegation is key for another reason: Claims of fraud in the execution may be resolved by the trial court, and not by arbitration.
McDougal's illegality theory is that the entire transaction was a disguised agreement to make an undisclosed, illegal corporate contribution to the Trump campaign, for the ultimate purpose of influencing the 2016 presidential general election. An illegal contract is void. McDougal will argue that because the arbitration agreement was part of an illegal contract, she may avoid arbitration altogether.
Her lawyer alleges that she and Trump had a 10-month affair that ended in 2007. The White House has denied Trump has any relationship with McDougal.
Stormy Daniels
Like McDougal, the path to legal victory for Daniels lays in avoiding the arbitration clause contained in her agreement.
The defendants in her lawsuit have removed the case to federal court, but the next maneuver by the Trump defense will be a motion to return the case to arbitration. If the McDougal and Daniels cases are forced into arbitration, there will be no discovery, no jury trial and no depositions under oath.
Daniels claims she had sex with Trump in 2006. The White House has denied that Trump had an affair with her.
Summer Zervos
She's in a totally different position. And that's why her case has suddenly overtaken the others as the greatest present threat to the Trump presidency.
Zervos is not bound by the strictures of any contract. Her case is not based on a contract but in "tort" law. Contract law enforces the intentions of parties to an agreement. Tort law is primarily designed to vindicate social policy, and right civil wrongs committed by one person against another.
Zervos alleges that in 2007 Trump kissed her and touched her in a sexual way. Trump has repeatedly denied her claims.
Zervos' defamation claim against Trump is that he intentionally published a false statement of fact which injured her. Now that a New York Court has allowed her case to proceed, the next step is discovery, where the parties exchange information, and appear for depositions. These are interviews conducted under oath, where the witness must answer all questions, unless privileged or plainly improper and prejudicial.
Additionally, because depositions are sworn testimony, the perils of perjury lurk behind every answer to every question.
If Trump is forced to sit for a deposition, he's in as much peril as if special counsel Robert Mueller had subpoenaed him to testify before a grand jury. In that sense, the civil cases against him are as perilous as the Russia investigation.
Danny Cevallos is an MSNBC legal analyst. Follow @CevallosLawon Twitter.