Russia slams British minister's 'disgusting' Putin-Hitler remark
Comments
By Alastair Jamieson with NBC News World News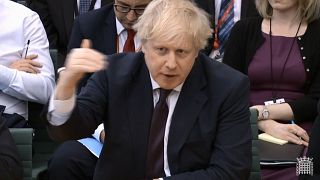 -
LONDON — Russia on Thursday condemned a remark by Britain's foreign minister as "disgusting" for saying President Vladimir Putin will try to use this summer's World Cup soccer tournament in Russia to burnish his country's image the way Hitler did when Germany hosted the 1936 Olympics in Berlin.
"It's an utterly disgusting statement which is unworthy of a foreign minister, of any country," President Vladimir Putin's spokesman, Dmitry Peskov, said Thursday. "It's insulting and unacceptable."
The escalating fight between Moscow and London, which follows the poisoning of Russian former spy Sergei Skripal and his daughter with a military-grade nerve agent, has diplomatic implications for the United States. Washington has already been the target of official Russian snark over the issue.
Skripal and daughter, Yulia, are in critical condition after they collapsed on a bench in Salisbury, southwest England, on March 4.
Britain blames Russia for the attack — the first known offensive use of a nerve toxin in Europe since World War II — and has expelled 23 of its diplomats. Russia denies the accusations, and has taken retaliatory steps.
U.S. State Department spokeswoman Heather Nauert tweeted Wednesday that "logic and evidence" show that Russia was behind the poisoning and called Moscow's denials "absurd."
Russia's embassy in the United States responded in a public Facebook post by accusing Nauert of "incompetent reasoning."
"Since when is she an expert on chemical weapons?" the embassy asked. "Or did she become an unscrupulous detective, who passes judgment on the innocent?"
The embassy even referred to American weather in its defense, adding: "Let's stop demonizing Russia. It is high time to stop blaming us for every sin. Is it possible that Moscow is responsible for today's snowstorm in Washington and New York?"
Similar criticism was aimed at London, where the Russian embassy's Twitter account regularly features memes and cartoons mocking Britain's stance on Moscow. It tweeted Sunday that the Skripal poisoning was a mystery requiring the attention of Hercule Poirot, Agatha Christie's fictional detective.
On Wednesday in London, lawmaker Ian Austin said Putin would use the World Cup to try to improve Russia's image, like Hitler did when Germany hosted the 1936 Summer Games.
Johnson, appearing before lawmakers, said he agreed.
"Your characterization of what is going to happen in Moscow in the World Cup, in all the venues — yes, I think the comparison with 1936 is certainly right," Johnson replied.
Russia's ambassador to Britain, Alexander Yakovenko, echoed Peskov's comments and said the comparison was "totally irresponsible" because of Moscow's role in fighting Hitler.
"Nobody has the right to insult the Russian people, who defeated Nazism and lost more than 25 million people, by comparing our country to Nazi Germany," he told reporters Thursday.
Meanwhile, British Prime Minister Theresa May was seeking support Thursday for joint European action on the Skripal case. "Russia staged a brazen and reckless attack against the United Kingdom," she told reporters upon arriving at a summit of leaders in Brussels.
"It's clear that the Russian threat does not respect borders," she said, "and indeed the incident in Salisbury was a pattern of Russian aggression against Europe and its near neighbors."
Trump did not raise the Skripal case in a phone call to Putin this week in which he congratulated the Russian president on his recent re-election victory.