French pensioners join public sector workers' protest over government cuts
Comments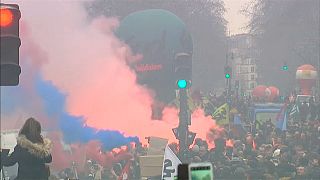 Tens of thousands of French public sector workers have been protesting over planned budget cuts.
United under the rallying cry of save our social system, pensioners, teachers, nurses and other several other civil servant branches took to the streets of Paris and numerous cities across the country.
Grégory, a nurse, told Euronews: "We don't have the means anymore, we're just going in circles. When we don't have midwives or nurses there's no-one to replace them and it's the patients who end up paying the price."
In the capital, a quarter of all nursery and primary school teachers staged a walkout; angry over a system they believe only reinforces barriers rather than removing them.
Other civil servants demonstrated over the government's plans to overhaul unemployment and retirement benefits; as well as make it easier to fire people.
School cleaner, Marie Françoise said: "If we don't fight there'll be serious consequences for our children. I'm here for my kids. I'm well set, I'm still young and I think I'll have a good pension but will my children?
Our correspondent Yoann Giammetta d'Angelo says it's the first time public sector workers, ranging from air-traffic controllers and civil servants, have joined rail workers and pensioners to protest.
"Emmanuel Macron had warned during his campagn to do away with 120, 000 civil servant jobs during his mandate if he was elected, even if that meant threatening some services provided by the State