How Bitcoin brought the 'Wild Wild West' to Iceland
Comments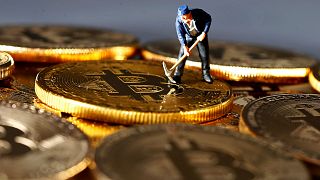 The recent theft of 600 Bitcoin-mining computers in Iceland brought the country's presence in the industry to the fore but why does the Nordic country lend itself so well to the mass extraction of the cryptocurrency?
A Bitcoin millionaire at 19, Erik Finman told Euronews the reasons for this and why the emerging market could bring a new wave of crime to the peaceful nation.
Why is Iceland ideal for bitcoin mining?
The island nation has two major selling points for Bitcoin miners. Firstly, it's cold, very cold.
Equipment used to harvest the cryptocurrency produces a lot of heat and the Arctic winds in Iceland provide a free cooling system, eliminating the need to install expensive air conditioning units.
The second reason is the abundance of volcanoes, which provide the country with a flow of renewable energy thanks to geothermal and hydroelectric plants on the island, keeping electricity cheap.
For Bitcoin miners, who run their servers 24/7 all year, access to inexpensive electricity helps maximise profits.
Death threats and heists: what's at stake in Iceland?
Finman paints a picture of the Bitcoin mining scene as "very much like the Wild Wild West" with "massive heists", assassination attempts, blackmail and hacking galore.
"I get death threats all the time," he said, "I have to be careful I don't get kidnapped, so I have security to make sure I'm super safe."
The young millionaire said it's not surprising that we are starting to see repercussions in Iceland because of the Bitcoin-mining trend.
Which other countries are in the bitcoin mining game?
Finman said Bitcoin farms could spring up wherever "energy is cheap and where it's freezing," so Iceland and Sweden are natural choices.
Venezuela, despite being hot, has a big Bitcoin mining scene but not for the same reasons as Iceland.
According to Finman, those harvesting the cryptocurrency are making the most of the unstable Latin American country's "free" electricity and using their Bitcoin to buy food online.
Farms are all over the world, according to the young millionaire and the $2 million (€1.6 million) of Bitcoin mining equipment stolen in Iceland may seem like a lot but this was a relatively small operation.
What do farms need to mine bitcoin?
Like gold, Bitcoins are mined from a finite reserve — there are 21 million out there and currently more than 12 million in circulation.
The practice of mining Bitcoins sees miners use special software to solve math problems for which they are issued a certain number of bitcoins in exchange. Around 12.5 Bitcoins are awarded every 10 minutes (currently worth around €81,300).
Bitcoin mining requires the same technology as a great gaming computer, and that's exactly what was stolen in Iceland.
"Intense processors and graphics cards" are what the whole Bitcoin network is propped up on, according to Finman.
This equipment is expensive and the "Bitcoin boom" has driven the price up even further, leaving gamers irked.
What did the thieves want from all those computers?
It is unlikely the thieves could steal Bitcoin from the servers but it "depends how they (the farm owners) set things up," according to Finman.
"What they could do with the $2 million worth of mining equipment is make a lot of Bitcoin by using it," he said.
Or, of course, they could sell it on.
Should Icelandic authorities put a stop to Bitcoin activity?
"If you ban it, it will just go under the radar," said Finman.
He thinks if the industry becomes more regulated we will see more "James-Bond-style stuff".
Comparing it to prohibition, he said if the government bans it the activity won't go away, it will just go underground and incite more criminal activity.