International Women's Day: Eight statistics that define the role of women in Europe
Comments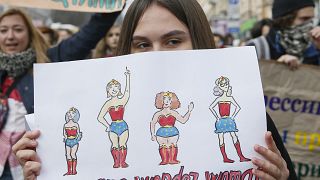 Living alone with children
In 2016, 7.7% of EU women aged 25 to 49 lived alone with their children compared to only 1.1% of fathers.
The UK was among the countries with the greatest differences (12.3% of women, 1.5% of men), well above the EU average, along with Lithuania and Denmark.
Childcare and housework
Women were also far more likely to be taking care of a child on a regular basis in 2016. Among the 25 to 49 age group, 92% of women looked after a child regularly compared with 68% of men.
Even greater disparities were found in who was taking care of household chores. Almost four in five women say they cook or take care of the house each day, compared to 34% of men.
Mediterranean countries saw the greatest disparity. In Greece 85% of women looked after the home compared to just 16% of men, and Italy 81% of women did and 20% of men.
Sweden had a smaller gap. But household chores were still far more often done by women with 74% reporting taking care of the home compared to 56% of men.
Women as managers
In the world of work, on average only 33% of women in the EU were likely to hold a management position.
This average did not exceed 50% in any EU member state. Here, eastern European countries stood out. The largest proportion of women who head up teams in Europe was in Latvia (47%), followed by Poland and Slovenia (41%).
Women in politics
Women were a minority in all political roles in Europe. They accounted for just over 35% of representatives in the European Parliament and this rate dropped to 29% when considering national parliaments in data collected at the end of 2017.
Only 10 heads of state or government out of 58 are women in the European Union and Norway.
Finally, only eight of 27 European Commissioners are women.
Earnings
The gender pay gap found across Europe in data collected in 2015. On average EU women earned 16.3% less than their male counterparts when comparing gross hourly wages.
Supervisory positions saw the greatest wage disparities where women managers earn 23% less than men.
Office employees and commercial or service roles are more equitable with a disparity of only 8%.
Contraception and family planning
Contraceptive prevalence varies across Europe grazing 70% according to a United Nations estimate for 2017.
The highest rates were found in the Czech Republic (76.5%) and France (68.7%), with Belgium also sitting at the top of the table with a rate of 61.8%.
However, there are still difficulties in accessing contraceptive methods. On average 9% of EU women needs in terms of family planning were not being met, according to the United Nations.
Rape
Nearly 18 women in every 100,000 were raped in 2015, according to recorded cases. The number of male rape cases was 1.8.
These figures do not take into account numerous cases that were not brought to trial.
Tampon tax
The 'fairest' country in terms of taxes on feminine hygiene was the Canary Islands which just opted to completely eliminate VAT on these products, while Spain has applied for reducing the rate.
Greece, Germany, Austria, Hungary, Switzerland and Italy all apply a complete VAT rate on these products, dubbed a "buffer tax".
France reduced it to 5.5% -- the same rate as other basic necessities. But not all the countries of the Union have followed this international movement.