"Trade wars are good" says Trump ahead of tariff hike
Comments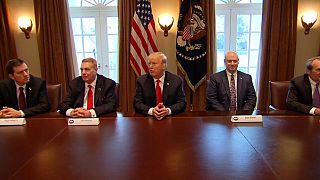 Donald Trump repeatedly says he wants to put America First.
His plans to raise tariffs on imported steel and aluminium, however, have created concern across the world.
Critics say the hike will kick-off a bitter trade war. But the US president has signalled he's ready to fight.
In a now customary tweet, Trump said with the USA losing billions he's ready to go toe to toe with any country that gets cute.
In response, the European Union has called the measure blatant protectionism and promised to act "firmly".
"Protectionism cannot be the answer to our common problem in the steel sector. Instead of providing a solution this move can only aggravate matters. The EU has been a close security ally of the U.S. for decades," said Alexander Winterstein, European Commission spokesman. "We will not sit idly while our industry is hit with unfair measures that put thousands of EU jobs at risk. The EU will react firmly and commensurately to defend our interests."
The 25 percent duty on steel and 10 ten percent on aluminium will be formally set next week.
Brussels will join other countries in challenging the measures at the World Trade Organisation and says it will also look into other safeguards.