'Lima Group' slams Venezuela's President Maduro
Comments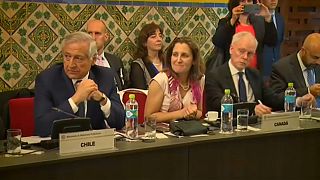 The 'Lima Group' of Latin American nations plus Canada has lined up against Venezuela's leader Nicolas Maduro.
The nations have slammed him for planning an election without opposition lawmakers' agreement. Peru has also pulled his invitation to April's summit of the Americas. Meanwhile, neighbouring Colombia has called for international aid to help cope with the humanitarian crisis caused by thousands of Venezuelans fleeing over the border to escape the economic disaster back home.
Last week Colombia tightened border controls and heightened security in frontier towns.
Critics of Maduro blame him for the country's protracted severe recession. It has led to protests over food, fuel and medicine shortages and has thrown thousands into abject poverty, sparking a mass exodus.