Trump 'set to declassify' secret Russia memo
Comments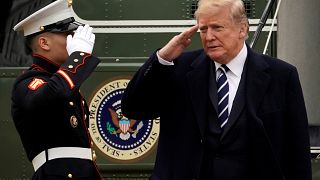 US President Donald Trump is expected on Friday to approve the public release of a Republican congressional memo alleging FBI bias against him.
The move is set to further inflame tensions between his administration and the top domestic law enforcement agency.
But senior Republicans, like US House Speaker Paul Ryan, have defended its declassifaction.
"What this is not is an indictment on our institutions, of our justice system," Ryan said.
"This memo is not an indictment of the FBI, of the Department of Justice. It does not impugn the Mueller investigation or the deputy attorney general."
However not all Republicans want the document made public.
Trump has the authority to prevent the release of the document but instead the White House is now thought likely to give Congress approval to make it public.
Tensions over the disputed memo have gripped Washington.
Democrats paint the memo, crafted by Republican members of the House Intelligence Committee, as misleading and intended to discredit the criminal probe into potential collusion between Trump's presidential campaign and Russia.
"They're putting out a bogus memo that is not true, but alluding to certain facts that are damaging, and that's why the Justice Department and the FBI have said that this is dangerous and reckless and should not be done," said House Minority Leader Nancy Pelosi.
Trump and Russia have denied any collusion, the president calling the investigation a "witch hunt" and "hoax".
The probe by Special Counsel Robert Mueller and the FBI inquiry that preceded it have cast a long shadow over Trump's year-old presidency.
with Reuters