Outcry after Florida Border Patrol conducts checks, detains woman on Greyhound bus
Comments
By Carmen Sesin with NBC News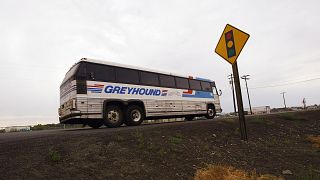 -
Copyright

Spencer Platt Getty Images for Fortune Magazine
MIAMI — A widely circulated video that allegedly shows agents from Customs and Border Patrol detaining a woman on a Greyhound bus, after demanding from people on board proof of citizenship, has sparked indignation by many.
The bus stopped at a station in Fort Lauderdale, Fla., during its route from Orlando to Miami on Friday afternoon. The driver announced there would be a "routine" security checkpoint and that is when two uniformed agents boarded the bus and announced they were from Border Patrol, according to Florida Immigrant Coalition, a Miami-based advocacy group.
The incident was captured on cell phone video by passengers on the back of the bus. One woman, who seemed puzzled, can be heard asking another passenger "is this new?" The video posted on the Florida Immigration Coalition's Twitter account has more than 2.3 million views.
The woman on the bus had an expired tourist visa and was arrested, the Border Patrol confirmed to the Miami Herald. She is currently in detention at the Broward Transitional Center in Pompano Beach.
According to Florida Immigration Coalition, the woman is from Jamaica and was visiting her granddaughter for the first time in Orlando.
Relatives of the detained woman contacted the Florida Immigrant Coalition on Friday and said they had not heard from her.
The woman's daughter in-law said in a statement "she's my daughter's grandmother and this was the first time meeting each other. I dropped her off at the Greyhound bus stop Friday morning and never got word of her arrival. I'm very concerned about these officers questioning her without a lawyer present."
The Border Patrol released a statement saying, "agents routinely conduct law enforcement activities at transportation hubs (i.e. bus and train stations) to prevent illegal aliens and drugs from traveling further into the United States."
The statement also said that while most of their work is conducted in the immediate border area, the law gives agents broad law enforcement authorities that "are not geographically restricted by law."
Under federal law, U.S. Customs and Border Patrol agents may search any vessel, aircraft, or vehicle within 100 miles of any border for undocumented immigrants. Fort Lauderdale falls within 100 miles from Florida's coast.
Greyhound released a statement saying, "We hear you, and we are listening. We are required to comply with all local, state and federal laws and to cooperate with the relevant enforcement agencies if they ask to board our buses or enter stations."
Detaining immigrants on Greyhound or Amtrak is nothing new for Border Patrol. In an article published by the Miami Herald in 2011, the newspaper quoted attorneys and others saying they have seen an increase in these kinds of arrests. They quoted an assistant in a law office in Central Florida saying "I'd say Greyhound cases make up 20 percent of our clients now."
Nonetheless, there has been outcry from immigration advocates against the Trump administration's efforts to ramp up immigration arrests.
"This did not surprise me because this has been going on with Greyhound for years. I know it's very dangerous to ride on Greyhound. All undocumented immigrants know this but it shouldn't happen," said Maria Bilbao, a community organizer with United We Dream, in Miami.
She fears that if an immigrant whose DACA status has ended is questioned during one of these incidents, they will be arrested and deported. "With the Trump administration, it has been a persecution," Bilbao added.
There has also been outrage among civil liberties advocates.
The American Civil Liberties Union tweeted that "this immigration enforcement on a Greyhound bus is needless and excessive. Immigrants have rights in this country and @CustomsBorder should be held accountable when they ignore that."
According to the Membership Director for Florida Immigrant Coalition, Isabel Sousa-Rodriguez," incidents like these erode public trust in police and authority figures whose job is to serve and protect our communities. Without an official judicial warrant, border patrol agents should not be permitted to board the private property of the Greyhound corporation to harass its customers and violate their civil liberties."