Ten people killed in Iran protests on Sunday, state television reports
Comments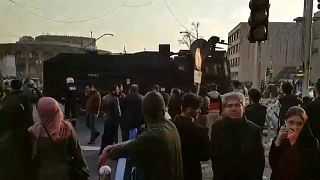 Iranian state television has reported 10 people died on Sunday in violent protests across the country.
An Iranian member of parliament, Hedayatollah Khademi, told the local ILNA news agency that two of the dead had been killed in southwestern town of Izeh and several others had been injured.
"I do not know whether yesterday's shooting was done by rally participants or the police and this issue is being investigated," ILNA quoted Khademi as saying.
Authorities in the country have restricted access to social media and the internet after messages were sent urging people to hold rallies in 50 cities, including the capital Tehran.
The unrest – the country's most serious since 2009 – began as a price protest on Thursday in the town of Mashdad, Iran's second city, but has since become political.
Demonstrations continued despite appeals from President Hassan Rouhani for calm. He said Iranians had the right to criticise the authorities but warned of a crackdown against violence.
"The government will show no tolerance for those who damage public properties, violate public order and create unrest in the society," Rouhani said in remarks carried by state TV.
He also criticised US President Donald Trump's recent tweets sympathising with the Iranian people.
"This man in America who today wants to sympathise with our people has forgotten that just a few months ago he called the Iranian nation a terrorist nation, " he said, repeating the phrase "terrorist nation" in English.
Trump has made a number of tweets about the Iranian protests, most recently branding it "Not good" that peaceful demonstrators cannot communicate because of the internet closures.