New York and Rio ring in 2018
Comments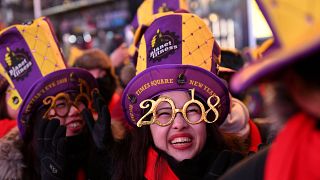 -
New York City Mayor Bill de Blasio and his family were on stage in Times Square to help see in 2018.
With a burst of fireworks and a blast of Frank Sinatra, the city's famous crystal ball dropped at midnight to cheers from throngs of intrepid partygoers who had braved the cold.
At minus 12 degress Celsius, it was the city's coldest New Year's Eve in a hundred years.
Security was also tighter than ever - with thousands of uniformed police and a dozen checkpoints making sure the party went off without incident.
Further south and many degrees warmer, some two million people rang in the New Year on Rio de Janeiro's Copacabana Beach.
Locals and tourist who flocked to the famed Brazilian spot were treated to a massive 17-minute long fireworks display as the clock struck midnight.
The annual "Reveillon" celebrations are one of Rio's largest tourist attractions and an iconic symbol of the city.