Palestinian 'Day of Rage' ends in bloodshed
Comments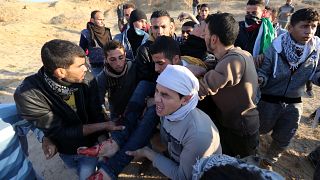 Israeli soldiers firing guns on one side... Palestinian youths throwing stones on the other.
Friday's scenes were nothing new in the Middle East but, after President Donald Trump's decision to recognise Jerusalem as Israel's capital, fresh blood has been spilt.
On a so-called 'Day of Rage', at least two Palestinians were killed and, according to Palestinian medics, more than 200 injured in clashes with Israeli troops in the West Bank and Gaza.
Israeli soldiers shot dead a Palestinian man near the Gaza border, the first confirmed death in two days of unrest. A second person later died of their wounds, a Gaza hospital official said.
The Israeli army said hundreds of Palestinians were rolling burning tyres and throwing rocks at soldiers across the border.
"During the riots IDF soldiers fired selectively towards two main instigators and hits were confirmed," it said.
In Hebron, Bethlehem and Nablus, dozens of Palestinians threw stones at Israeli soldiers who fired back with tear gas.
More than 80 Palestinians were wounded in the occupied West Bank and Gaza by Israeli live fire and rubber bullets, according to the Palestinian Red Crescent ambulance service. Dozens more suffered from tear gas inhalation. Thirty-one were wounded on Thursday.
The powerful Palestinian Islamist group Hamas had called for a new uprising against Israel.
"Whoever moves his embassy to occupied Jerusalem will become an enemy of the Palestinians and a target of Palestinian factions," said Hamas leader Fathy Hammad as protesters in Gaza burned posters of Trump.
"We declare an intifada until the liberation of Jerusalem and all of Palestine."
It is not yet clear whether Friday's unrest marks the start of an intifada.
As the injured were evacuated to hospital, rockets were being fired from Gaza to Israel.
The military said one rocket hit the Israeli town of Sderot. No casualties were reported.
Israel's military said its aircraft responded by bombing militant targets in Gaza, which Hamas controls.
The Palestinian Health Ministry said at least 25 people were wounded in those strikes, including six children.
Trump's announcement on Wednesday has infuriated the Arab world and upset Western allies. The status of Jerusalem has been one of the biggest obstacles to a peace agreement between Israel and the Palestinians for generations.
Israel considers all of Jerusalem to be its capital. Palestinians want the eastern part of the city as the capital of a future independent state of their own.
with Reuters