Grief and anger in Egypt after mosque massacre
Comments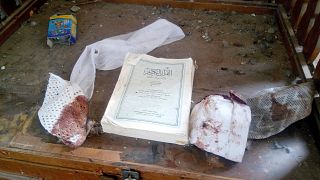 Funerals for the 305 victims of Egypt's mosque massacre have been held, as nationwide mourning continues.
Gunmen who killed worshippers at Friday Prayers in North Sinai brandished an ISIL flag, officials say.
The bomb and gun onslaught was the deadliest militant attack in Egypt's modern history.
State news agency MENA said the death toll of 305 included 27 children, and 128 people were injured.
"We're in shock," said Cairo resident Mahmoud Ali.
"We need to eradicate terrorism. We will work with the government and military to combat terrorism."
"I want a response that will act as a deterrent," said another man in the capital who gave his name as Abdullah.
"We should not wake up to cries everyday. Everyday we hear that someone has died. I have had enough of it."
Egypt reels as death toll rises to more than 300 after mosque attack https://t.co/doD6reFNXBpic.twitter.com/NFGVUbfBdG

— NBC News (@NBCNews) 25 novembre 2017
Local sources said some of the slain worshippers were Sufis, whom groups such as ISIL consider targets because they revere saints and shrines, which for Islamists is tantamount to idolatry.
Egypt's Defence Ministry has released footage of warplanes carrying out what it says were airstrikes on targets linked to the attack.
President Abdel Fattah al-Sisi had pledged to respond with the utmost force.
There has still been no claim of responsibility for Friday's carnage but a branch of ISIL has been waging an insurgency in the North Sinai region.
The mostly desert area stretching from the Suez Canal eastwards to the Gaza Strip and Israel, has long been a security headache for Egypt and is a strategic region for Cairo because of its sensitive borders.
with Reuters