German political crisis: a cause for concern, or an opportunity for Europe?
Comments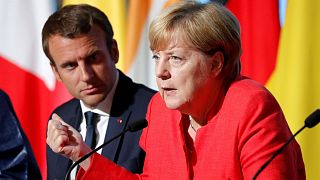 Angela Merkel has been at the helm in Germany for 12 years. The stability makes the chancellor one of the pillars of the European Union, meaning her struggle to form a government has several members of the bloc worried.
But the Netherlands and Belgium took record times to put together an administration following elections, so why the bother over Berlin?
French MEP Nathalie Griesbeck told euronews:
"I'm very worried about the situation of my German friends and I really blame certain political leaders. We were at a point in Europe's history with the arrival of Macron when we thought we could breathe more easily."
Merkel's influence has shaped the Union's policies. She tipped the balance when the presidents of the European Commission were appointed, but the German chancellor also demonstrated her obstinacy during the Greek crisis. For researcher Corinna Hörst, the situation could work in the rest of Europe's favour.
"I can perfectly understand that European governments are surprised, even worried, for change is always a little destabilizing at the beginning. But I believe that there are big chances in what has just happened in Germany. It's a bit ironic that people used to say sometimes, oh God, Germany is too strong, we don't want that. And now when Germany looks like it can't deliver, then people don't like that either. So there is a great opportunity for the rest of the EU", she said.