Former rebel group registers as political party in Colombia
Comments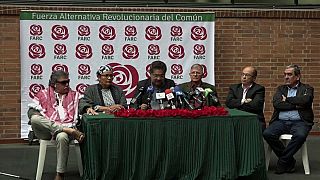 Former fighters of what was once Colombia's largest rebel group are completing the final steps to become a new political party.
Leaders of the FARC group arrived at the National Electoral Council on Monday to submit the paperwork required to become a registered political party.
The former Revolutionary Armed Forces of Colombia reached an historic peace accord with the government last year to end Latin America's longest-running conflict.
They are vowing to become a political force aimed at reducing inequality.
The former fighters chose a new name for their political party which will keep their Spanish acronym, FARC.
They are now known as the Common Alternative Revolutionary Force.