Turkey blamed for breakdown of talks on EU membership
Comments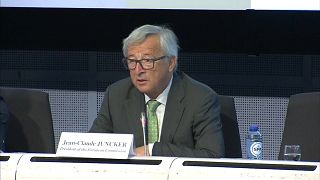 European Commission President Jean-Claude Juncker has accused Turkey of wanting to blame Europe, not itself, for a breakdown in EU membership talks.
"Turkey is moving away from Europe," said European Commission President Jean-Claude Juncker. "I believe that Mr Erdogan would like Europe to say that it wants to put an end to the negotiations so he can put responsibility on the European Union and not Turkey."
Relations between Berlin and Ankara have also been growing increasingly frosty after German citizens were arrested last summer when a failed coup against the Turkish President sparked a crackdown on civil liberties and mass arrests of the political opposition, activists, and journalists.
"With a view to the three million Turkish citizens in Germany we wish to have better ties with Turkey but it needs to coincide with the observance of constitutional principles and we do not see them in Turkey at the moment and that's why it is a very complicated phase in our relations," said German Chancellor Angela Merkel.
In February, Deniz Yucel a German-Turkish journalist was arrested in Turkey on charges of terror propaganda.
Germany has accused the Turkish President of attempting to silence his critics at home and abroad.
Those at the top believe Turkey's ambition to join the EU is 'unrealistic' as long as Erdogan is President.