CCTV captures moment of deadly gun attack at Toronto bar
Comments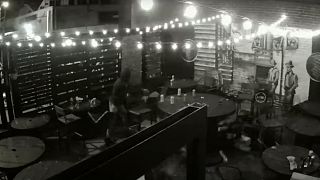 This is the moment a hooded gunman opened fire in a Canadian bar, killing one man and injuring four others.
Security cameras at the Libertarian Public House in Toronto captured the shooter attack men around a table on the bar's patio.
Four men were taken to hospital, where one of them, a 32-year-old, died from his injuries, according to Toronto Police Service (TPS).
Officers are appealing for help in finding the gunman, who fled on foot and was seen by witnesses getting into a car on Queen Street East.
"We are coming after him," Detective Sergeant Hank Idsinga, of TPS' homicide squad. "We are very lucky that we don't have three murder victims here."
Idsinga called the shooting brazen and said nine people were on the patio when the gunman opened fire.
"Innocent people shouldn't be getting struck by bullets when they are simply out having a drink at a local bar," Idsinga said.
The dead man was Toronto's 29th murder victim this year, say police. Figures show 2017 is on course to be better than last year, which saw 74 murders.
Canada's murder rate is around 1.68 homicides per 100,000 people, compared with 4.9 in the United States.