Venezuelan opposition leader: 'They're torturing me'
Comments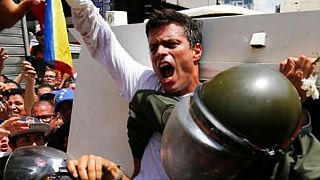 Amid ongoing anti-government demonstrations in Venezuela, apparent claims of torture have been made by the jailed opposition leader Leopoldo Lopez.
In a video posted to social media sites by the politician's wife, Lopez is heard yelling from inside a military prison that he is being tortured.
He pleads with his wife to pass on the information about his treatment.
There has been growing pressure on President Nicolas Maduro after months of demonstrations calling for new elections to end 18 years of Socialist rule.
At least 75 people have died in clashes since April.
The latest death of a 22-year-old man was outside a military base on Thursday, where people attempted to pull down a fence.
Demonstrators returned to the scene on Friday, setting alight three trucks.