Ronaldo proclaims innocence in tax fraud case
Comments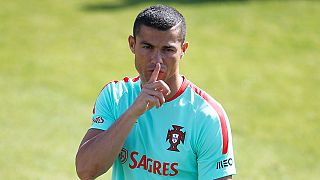 Soccer superstar Christiano Ronaldo's legal woes with the Spanish taxman, who
is sueing him for nearly 15 million euros in unpaid taxes, have stunned his fans.
As for the man himself, he does not appear to fear his upcoming day in court.
"My conscience is quite clear, brother. Always, man," he said to reporters on Tuesday.
He is accused of setting up a business in the British Virgin Islands to hide his cash.
"This statement is absurd because he did not create that business structure to defraud the tax authorities. He stated his income
and this income he has declared – concerning image rights – Respect a criterion that is a reasonable criterion," says Ronaldo's
lawyer Antonio Lobo Xavier.
Ronaldo joins an illustrious list of super-wealthy sports stars, arch-rival Lionel Messi amongst them, who
have run foul of tax authorities. In Spain foreign players pay income tax at a much lower rate than domestic players,
and tjhe taxman keeps a close watch.