Students clash with police as Venezuela violence rages
Comments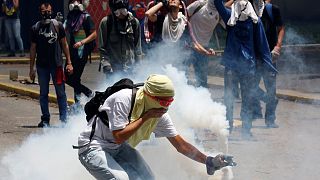 There has been no let-up in Venezuela's protest movement against leftist President Nicolas Maduro, with clashes between students and police on Thursday.
Times cannot be defined by the blood of our people

Venezuelan conductor
Weeks of unrest in Caracas and beyond have claimed at least 36 lives.
With an 18-year-old musician in the national youth orchestra programme one of the latest to die, famed Venezuelan conductor Gustavo Dudamel slammed the violent crackdown.
"I urgently call on the President of the Republic and the national government to rectify and listen to the voice of the Venezuelan people," wrote Dudamel, 36, on his Facebook page.
"Times cannot be defined by the blood of our people. We owe our youth a hopeful world, a country where we can walk freely in dissent."
'Against violence and repression I raise my voice #DudamelVenezuelahttps://t.co/Z3zzBSTCnu

— Gustavo Dudamel (@GustavoDudamel) 4 mai 2017
Until now, Dudamel, music director of the Los Angeles Philharmonic, had maintained a friendly relationship with the government through the youth orchestra programme known as El Sistema.
The unrest began in late March, driven by accusations that Maduro is consolidating a dictatorship and anger over chronic product shortages that have left many struggling to eat.
His call to rewrite the constitution has further energized the protest movement.
#UPDATE Deadly unrest grips Venezuela as students rally https://t.co/a0kyoG3MDApic.twitter.com/bcYpuImHbk

— AFP news agency (@AFP) 4 mai 2017
In northern Venezuela, authorities said a student leader was killed during a meeting at his university on Thursday.
The 33-year-old was said to have been shot several times by one of the participants at the meeting who then fled on a motorbike. It is unclear whether his death is linked to the protest movement.
The president of Venezuela's opposition-controlled National Assembly has taken the fight against Maduro to Washington.
At the headquarters of the Organisation of American States, Julio Borges said he had brought a decree from the assembly asking for the OAS to cancel Maduro's bid to withdraw from the body – a move that would further deepen the diplomatic isolation of the crisis-hit socialist-run nation.
Back in Venezuela, family and supporters of jailed opposition leader Leopoldo Lopez continue their anxious wait for news amid rumours about his health, despite the release of a so-called 'proof of life' video in which he says he is fine.
#Venezuela protests rage, jailed @leopoldolopez supporters stage vigil https://t.co/qYJiveugh9pic.twitter.com/fRmH2xVOTf

— Reuters Venezuela (@ReutersVzla) 4 mai 2017
Lopez, a US-educated economist and leader of the hard-line Popular Will party, is accused of inciting street violence, and in 2015 was sentenced to almost 14 years behind bars.
Maduro says his government is the victim of an "economic war." He often dismisses critics as allies of Washington seeking to destabilise his government or create conditions for a foreign invasion.
with Reuters