Comedian pokes fun at Trump at correspondents' dinner he snubbed
Comments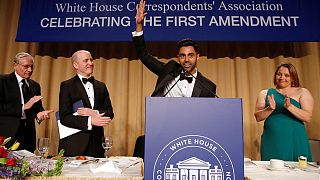 It was the first time in 36 years that a US President had snubbed the annual White House Correspondents' dinner, but Trump remained a big talking point.
"We gotta address the elephant that's not in the room," said comedian Hasan Minhaj.
"The leader of our country is not here … and that's because he lives in Moscow!"
"It's a very long flight. It'd be hard for Vlad (Russian President Vladimir Putin) to make it. Vlad can't just make it on a Saturday. It's a Saturday."
Minhaj, a comedian on "The Daily Show", provided light relief as those present rejected Trump's claims of so-called "fake news".
"In the age of Trump, I know that you guys have to be more perfect now more than ever," said Minhaj.
"Because you are how the president gets his news. Not from advisers. Not from experts. Not from intelligence agencies. You guys.
"So that's why you can't make any mistakes, because when one of you messes up, he blames your entire group. And now you know what it feels like to be a minority."
Click here to see a video of more highlights Minhaj's speech.
Or watch the full speech here:
The head of the White House Correspondents' Association, Jeff Mason, defended press freedom.
"We are not fake news, we are not failing news organisations and we are not the enemy of the American people," he said.
Trump says he refused to attend the dinner, which has been a tradition for US presidents for decades, because he feels he has been treated unfairly by the media.
Most of Trump's administration also refused to attend.
US leaders have traditionally attended the dinner to make light-hearted speeches, with often self-deprecating comments about themselves.
Trump instead held a rally to mark his 100 days in office.