Austrian rage after Germany slams road toll on its autobahns
Comments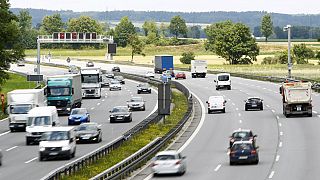 Austria has said it will take legal action against Germany to stop plans by Berlin to introduce a toll on its roads.
Cross-border traffic between the two countries is high and the move has sparked rage in Vienna with the levy set to hit foreign registered drivers hard.
Germany's upper house parliament the Budesrat gave the green light on Friday for the road toll to be introduced.
The original tolls proposal had to be revised after the European Commission ruled that it did unfairly discriminate against foreign drivers.
Provisions were added to allow visitors to pay short-term tolls of 10 days or two months. Fees will range from €2.50 to €50.
Austria's Transport Minister Joerg Leichtfried slammed the decision: "It gives the impression that the larger countries can make their own rules on the back of smaller countries. We have a good relationship with Germany, a friendship. And I want this to remain. But given the current position, we'll have to take this court. "
The toll will cost German drivers up to 130 euros a year, but unlike their foreign counterparts, they will be able to recover that back through tax deductions.
Germany's Transport Minister Alexander Dobrindt hit back at Austria's threat of a legal challenge, making it clear Berlin had no intention of putting the brakes on.
"I don't have any sympathy for Austria's whining about the road toll – a country which has charged a road toll for more than 20 years and makes sure that everyone driving into Austria contributes to the financing of their infrastructure. That they now act according to the motto: Everyone who drives into Austria should pay but Austrians shouldn't pay in Germany, – isn't the European idea," he said.
The new law is set to take effect in the coming days and the fees will be implemented from 2019.