The opinions expressed in this article are those of the author and do not represent in any way the editorial position of Euronews.
With Le Pen, we have a vision that based on a specific idea of the past in need of restoration and which is based on the denunciation of negatively perceived changes in need of removal.
By Julien Longhi, professor of linguistics, Université de Cergy-Pontoise
Marine Le Pen and Emmanuel Macron are the pollsters' favourites to go head-to-head in the second round of the French presidential elections. While they come from different backgrounds, both candidates oppose belonging to an established political "system"; both claim to represent the "people"; and both benefit from an appreciation for what is "new or novel" in French politics. They distinguish themselves, however, on subjects including the future of Europe or the Euro single currency.
In order to provide a complimentary point of view to political, economic and judicial punditry, I propose here a linguistic analysis of the candidates' two programmes based on statistical analysis called textometry. This method of analysis highlights the specific aims of each programme as well as comparing the goals of the two candidates.
At first glance, a simple analysis of the 10 most-employed terms within the two political manifestos shows those commonly shared by both Le Pen and Macron, which justifies comparisons sometimes made between the two politicians: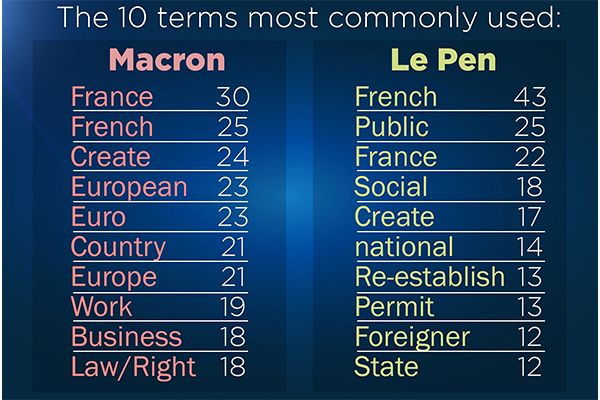 "France", "French" and "create" are shared vocabularies between both candidates, while the rest show the candidate's relatively distinct political platforms. The ideal of Europe is particularly mentioned by Macron (in his use of "European" and "Europe"), as is his concern for working salaries (in this use of "work", "business" and "euro"). Terms revolving around identity and the state are also heavily employed.
The analysis of the candidates' similar vocabulary makes it possible to understand the frequency of words (their size is proportional to their use) but also how they relate to one another. We can in this way note that the two candidates' use of words varies vastly.
The platform of Emmanuel Macron: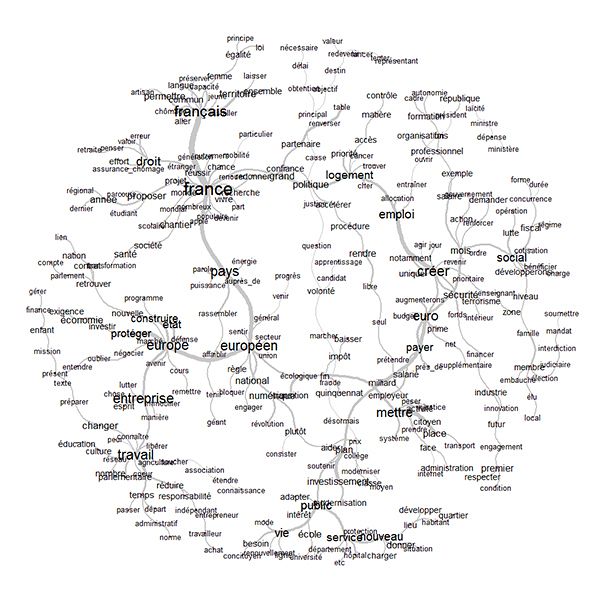 The platform of Marine Le Pen: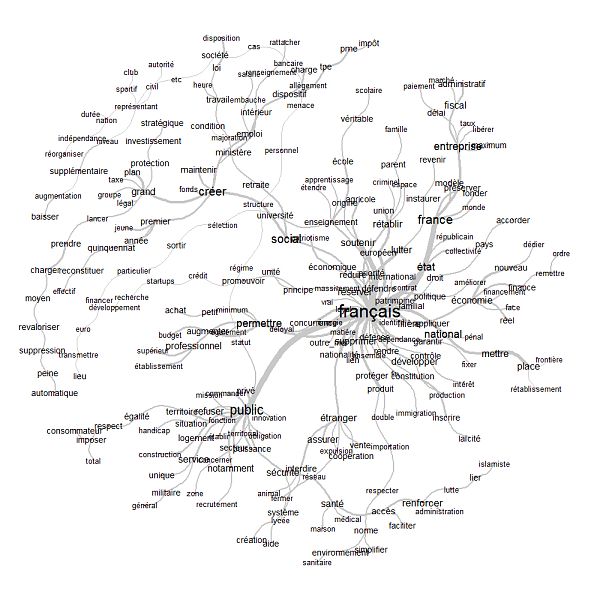 We note the platform of Macron is based on several principle terms that support his underlying programme. Marine Le Pen's political platform, however, is built in a more structured way emanating from the term "French", which acts as a structural pivot within her political ideology.
The words Le Pen most commonly uses and which surround "French" reveal a protectionist and defensive vision through her use of "defend", "reverse", "protect" and "re-establish".
In contrast, for Macron, "France" is surrounded by "chance", "succeed", and there is especially a network tying together "France", "Europe", "European", "business" and "work".
There is therefore a strong difference between the two political platforms, which is reinforced by the analysis of major themes made possible by an algorithm known as "Alceste". It allows the grouping of large vocabulary sets in order to identify major underlying themes.
An "Alceste" analysis of Emmanuel Macron provides this result: that is to say five major themes tied to culture, Europe, gender equality, taxation and labour.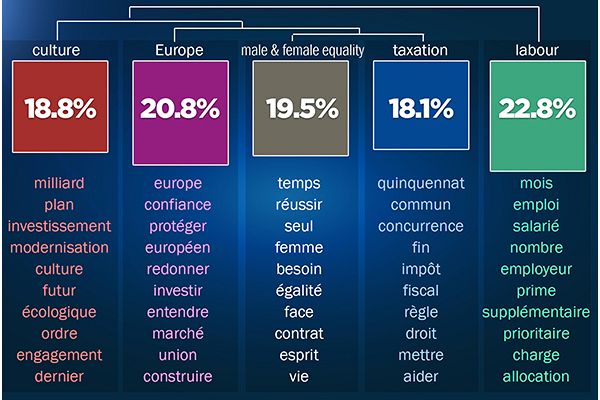 Themes in Macron's programme
With Marine Le Pen, the same type of analysis provides a much more homogenous representation: three major themes related to the national preference, investment and work.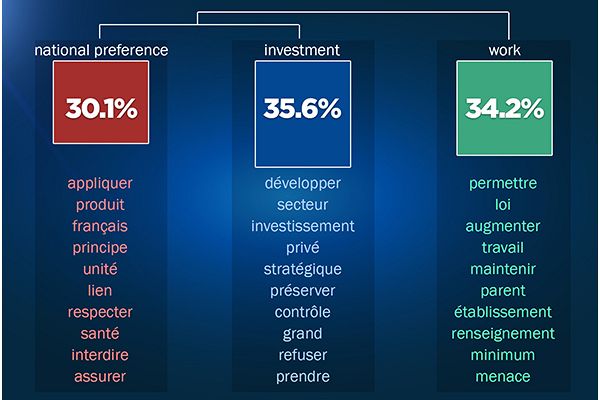 Themes in Le Pen's platform
The differences between the two programmes becomes more apparent: the platform of Emmanuel Macron is more diversified while Le Pen's is more homogenous and is linked to a more common ideological anchor.
To further specify the comparison, the textométrique analysis also allows us to calculate if certain terms are specific to one candidate more than to the other.
The platform of Macron is characterised by an over-employment, when compared with Le Pen's platform, of the nouns "power" and "duty" and the verb "to want". Macron therefore shows signs of a relatively traditional form of political discourse, both responsible and voluntary, which created a performance-based political programme (which can then be translated into actions).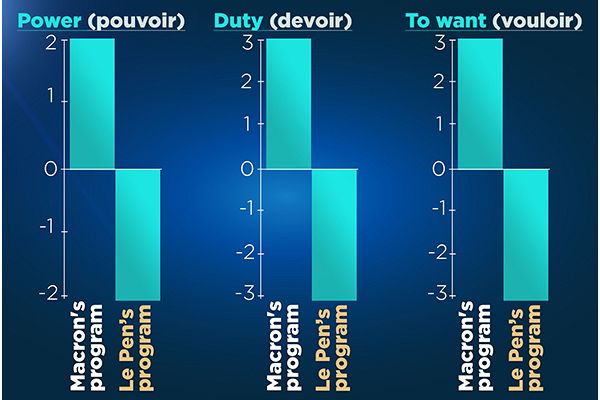 Other terms compared with Le Pen's programme include: "We" and "Europe."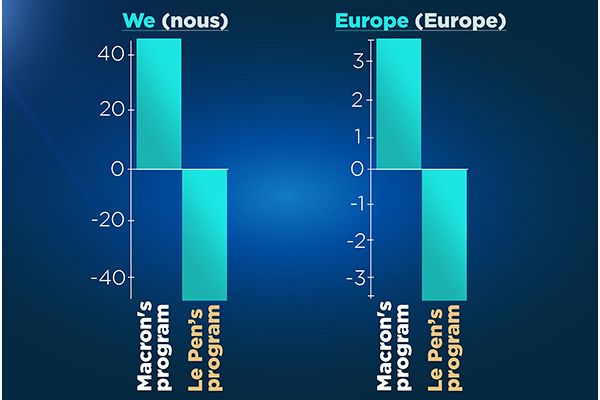 Macron's programme highlights the collective ("we") and "Europe" but also two other verbs which indicate dynamism and innovation: "build" and "change".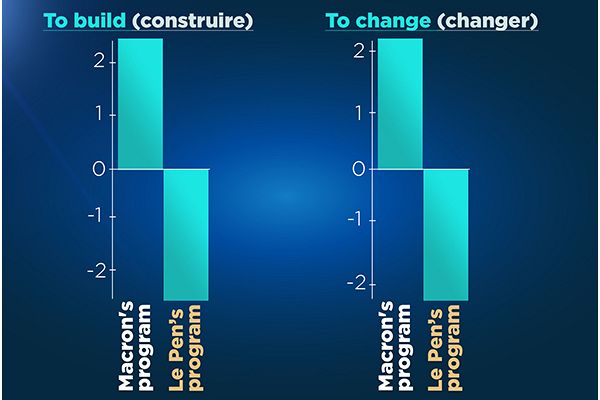 This is important because Le Pen's platform is characterised most notably by verbs which allude to the past: "restore", "cancel", "defend", "fight" and "reinforce".
This difference is demonstrated in the graphics below.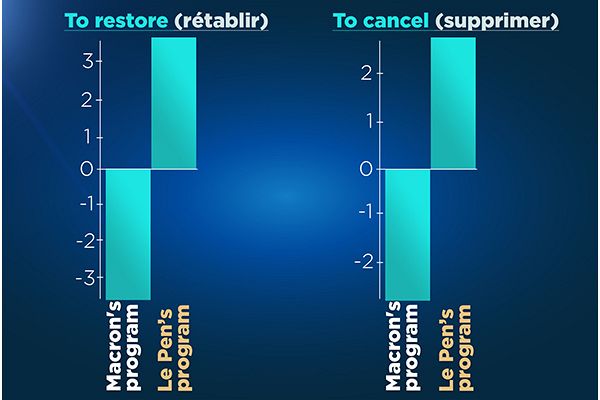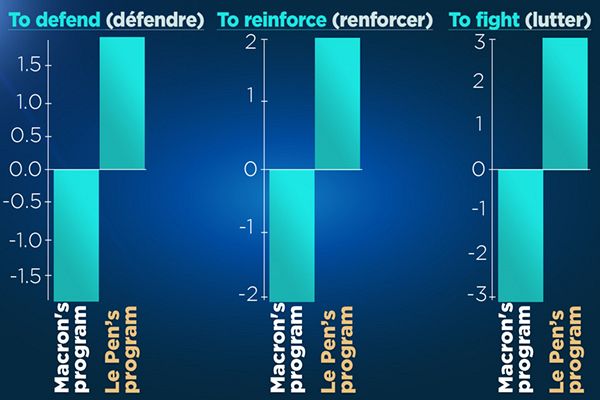 Indeed, "restore" supposes the return of a previous state, "cancel" suggests the removal of something existing, "defend" and "fight" denotes a struggle against something that aims to modify this previous state, and "reinforce" suggests a buttressing of existing ideals.
With Le Pen, we have a vision that based on a specific idea of the past in need of restoration and which is based on the denunciation of negatively perceived changes in need of removal.
This progressive analysis of these two candidates, based on the relations between the words they use, shows comprehensively that the two candidates who lead the polls have different profiles.
They can both certainly claim to stand for the people and against an established political norm, but Marine Le Pen has a homogenous programme which maintains a close bond with the past. Emmanuel Macron has a more diversified programme which falls within a more classic political tryptic: one that highlights political action (want, duty, power), mobilises a collective (we) and prioritises Europe.
Beyond their personal differences, these platforms are also two political visions which are radically different, separated from the caricatures sometimes used by political rivals. If politicians want to mount effective campaigns against either Le Pen or Macron they should challenge their political ideologies rather than engage in sometimes unfounded prejudice or assumption which does not advance debate and probably contributes to the success of these two candidates.
Thus, Emmanuel Macron, is certainly breaking away from a more "classical" political discourse. He nevertheless utilises traditional codes both innovative and anchored in political practice to develop a style that is comprehensible and in which innovation is not synonymous with a break with the past.
By comparison, Marine Le Pen concentrates on a "return" to a vision of a halcyon past. She identifies those she claims are responsible for a perceived "decline" in France (her opponents), and establishes herself as an authority who will restore a certain order.
For both candidates, France and its citizens are at the heart of their preoccupations. France's openness toward Europe is another key issue and serves as a departure point for several proposals.
Conversely, and this is the main point, Marine Le Pen values a certain closure toward foreigners which helps justify her strategies and proposed measures. Openness or closure, a posture turned toward the future or toward the past are the stakes at play in this duel between two candidates who, based on their own words, couldn't be further apart.