Romano Prodi: 'Europe must work for its own defence'
Comments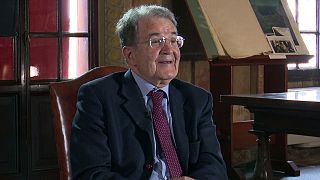 Romano Prodi was prime minister of Italy and European Commission president at a historic time for Europe.
Europe must work for its own defence.

Former European Commission president
Isabelle Kumar, Euronews:"You have said your Europe is dead – the Europe you helped to build – which makes me ask, what Europe is alive now then?"
Romano Prodi: "You are taking me by emotion I am talking with my heart not with my brain. In the Renaissance the Italian states were leading, it is not rhetoric, Bologna, Florence, Milan, Genoa for banking for technology for military art, Venice for trafficking – that was the first globaliation the discovery of America – and we did not stick together.
"No Italian state was able to build the new ships that were necessary for the New World and Italy disappeared for four centuries from the world map. Now we are in the same situation. Germany, France, Italy, no one is big enough for the new globalisation."
---
Biography: Romano Prodi
Romano Prodi served twice as Italian PM
He was the 10th European Commission President
A professor of Economics, he is nicknamed 'il professore'
---
Isabelle Kumar, Euronews:"You were in power as European Commission president and oversaw the expansion of the European Union, the largest single expansion in its history from 15 to 25 members. Did you back then realise that this could provoke the problems we are seeing now?"
Romano Prodi: "It was a triumph. When in Dublin we celebrated on May 1, 2004, the enlargement, it was a sense that Europe was a winner in history. Then clearly the old nationalist ideas that were following the problems of the tensions of minorities the difficult borders, this came up with the new freedom of the east European countries. Then in the second phase you had the populist parties."
Isabelle Kumar, Euronews:"So you let the genie out of the bottle?"
Romano Prodi: "Yes."
Isabelle Kumar, Euronews:"If you could go back in time, knowing what you know now – what would you do differently? When it comes to EU expansion."
Romano Prodi: "I would do the same, because the alternative would be a tragedy. I think that now we could have an incredible uneasy situation in the Baltic states, in Poland, certainly in the former Yugoslavian countries and now you you have problems but you have problems in freedom! It was the only export of democracy that had taken place in the world, we worked for years in adapting the rules and the laws, the working of the parliament, the guarantee of democracy this was enlargement, this was not the Iraqi war exporting democracy with the weapons."
Isabelle Kumar, Euronews:"There are many countries turning against the euro – the euro that you were also instrumental in introducing in Europe."
Romano Prodi: "Clearly it was conceived as a step of a more united Europe, but then fear came. Europe has been dominated by fear in the last ten years."
Isabelle Kumar, Euronews:"In terms fo the euro there was not enough preparation as well?"
Romano Prodi: "It was a first step of a common goal, of a common enterprise. But then we stopped it and then the euro was without defence. The idea of going forward in the economic unity was shared by all the countries that entered in the euro."
Isabelle Kumar, Euronews: _"Germany has now tried to move the narrative forward for Europe and Chancellor Angela Merkel has evoked the idea of a multi-speed
or a two-speed Europe, something you have welcomed, but how specifically do you see a multi-speed Europe working? Will you not have an elite in the driving seat?"_
Romano Prodi: "Specifically? I give you a concrete example. The Americans say Nato one day is a very nice thing another day is a problem. In any case Europe must work for its own defence. So, a first reinforced cooperation could be 10 European countries start slowly putting together a defence."
Isabelle Kumar, Euronews:"But will you not create a Europe, which we have now in some respects, with an elite at the core – most probably Germany and other northern European states who will be driving this project forwards?"
Romano Prodi: "Well, this is an evolution of the situation. When the power went from the supra-national body to the members states – let's say from the European Commission to the European Council – clearly you open a competition among the countries. And in the competition the strong country became responsible."
Isabelle Kumar, Euronews:"Are you satisfied with that situation? Is that how you see Europe progressing?"
Romano Prodi: "Now it is clear that Germany is the leading county. As you have seen in the Greek case there was not, let's say a dialogue between Brussels and Athens, but between Berlin and Athens because this is the reality. But, I think that when you are a leader like in Germany – you must put yourself in the shoes of the other members."
Isabelle Kumar, Euronews:"For those countries to this idea of a multi-speed Europe – the more nationalist countries – what happens to them? Should they leave?"
Romano Prodi: "No, and they have no alternative like the UK. Not only because they receive money from Europe. Poland has never flourished in all millennial history like now, because of Poland but because of Europe."
EU countries in scramble to 'steal' UK-based research centres https://t.co/RQLKBq70HR

— Guardian news (@guardiannews) September 17, 2016
Isabelle Kumar, Euronews:"Let's now focus on Italy just briefly, Italy is in a bit of a mess. The party that you helped form, the Democratic Party, seems to be tearing itself apart like much of the left in Europe…"
Romano Prodi: "The split of the Democratic Party is a big signal of crisis…"
Isabelle Kumar, Euronews:"It is a gift to Beppe Grillo's Five Star movement?"
Romano Prodi: "Of course, of course…"
Isabelle Kumar, Euronews:"What does this mean for membership of the euro for Italy now three of the four main parties are eurosceptic would also like to move out of the eurozone?"
Romano Prodi: "In Italy I still hope that putting together the pieces of the (former) Democratic Party and many of the other, even the right wing parties, you have a majority in favour of Europe."
Isabelle Kumar, Euronews:"Do you think the euro was good for Italy, because many Italians don't?"
Romano Prodi: "My euro was something different from what happened. But I think that in any case we couldn't stay out. When you say that the euro is damaging the economy, think that the balance of trade is positive for Italy – we have a surplus in the balance of trade so we are not an inefficient country. The problem is the political situation – but it is not a problem of the euro. It is a problem of a divided country on basic principles."
Isabelle Kumar, Euronews:"Finally then let's bring the conversation back to Europe – where do you see Europe in 10 years from now?"
Romano Prodi: "I go back to the Renaissance example: we are lost, we are lost! Together we win. It depends up on us."
Fascinating chat w ex Italian PM & European Commission Pres. Romano Prodi on future of Europe. Soon on euronews</a> <a href="https://t.co/vajF3nyiAO">pic.twitter.com/vajF3nyiAO</a></p>&mdash; Isabelle Kumar (Isabelle_kumar) February 21, 2017