New US sanctions on Iran 'as early as Friday', sources tell Reuters news agency
Comments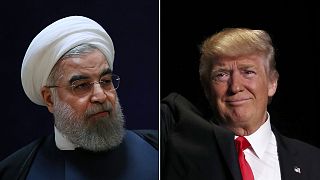 Donald Trump has taken a tough line against Iran in the wake of its test-firing of a ballistic missile.
After he said 'nothing is off the table', sources familiar with the matter told Reuters news agency that the US is expected to impose additional sanctions on Iranian entities as early as Friday.
The new sanctions would be implemented in a manner that would not violate the pact. The sources said they had been in the works for some time, and Iran's decision to test-fire a ballistic missile had prompted Trump's decision.
The new US president targeted Tehran on Twitter, accusing the Islamic Republic of ingratitude over the nuclear deal struck with the West.
Tehran confirmed it had tested a missile, but said it was not in breach of the nuclear pact. The country has test-fired several ballistic missiles since the deal was signed in 2015, but this was the first under Trump's leadership.