Why the Iran nuclear deal will likely survive President Trump
Comments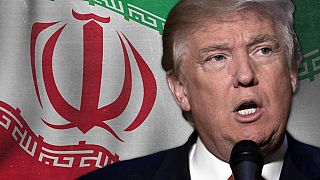 Officially in office for less than a week, US President Donald Trump keeps using executive orders to dismantle or overturn policies put in place by his predecessor Barack Obama.
Yet what Trump once considered his No. 1 priority on his to-undo-list, the Iran nuclear agreement, seems to be more difficult to scrap than the self-declared uber-dealmaker initially thought.
Fresh evidence of this reality is expected to arrive at the White House on Friday, when British Prime Minister Theresa May will be the carrier of an important message: The Iran nuclear deal is here to stay!
Previewing May's trip to Washington, her spokesperson said that she will stress the British strong support for the 2015 Iran nuclear deal, concluded between Tehran and six world powers.
During the campaign, candidate Trump called the Islamic Republic the world's leading state sponsor of terrorism, a threat across the Middle East, and a country that has covert cells ready to inflict carnage around the globe.
Allowing Iran access to billions of dollars in exchange for curbs on its nuclear program, Trump argued, was not in America's or the world's interests.
But during their Senate confirmation hearings Trump's own national security cabinet picks acknowledged the diplomatic reality and avoided the term "re-negotiation" altogether.
Signs that there is no appetite for a new round of grueling negotiations are not only coming from London, but also from Paris, Berlin, Moscow, Beijing and Tehran, the other signatories of the agreement.
"The other P5+1 are not going to support an effort to re-negotiate a deal, if they think it's just a clever way to destroy it", says Gary Samore, Executive Director for Research at Harvard University's Belfer Center for Science and International Affairs.
Even if Trump were to engage Iran in new bilateral negotiations given the unlikelihood of multilateral talks, he would need to offer more sanctions relief to lure Tehran back to the table. Yet, Trump's natural instincts will be to pressure and threaten Iran with new sanctions, Samore says.
Probably Trump's best option, likely to be favored by Washington's foreign policy establishment, would be to abide by the nuclear deal and to focus instead on other non-nuclear threats from Iran in the region, Samore says.
Likely topics could be Iran's non-nuclear armament, Tehran's support of various violent extremist groups in the region and its role in destabilising regional governments. But will Trump follow such a path?
"In Tehran, the biggest concerns are Trump's general unpredictability, the "Iranophobia" of his cabinet appointees, and that pressure from Congress could derail the deal", writes Arthur MacMillan in Foreign Policy.
The Iranian government isn't sanguine about Trump, and both supreme leader Khamenei and President Hassan Rouhani have become increasingly bellicose about the United States since November.
The reason is that there remains a way Trump could single-handedly renege on the agreement by simply allowing waivers of past sanctions to lapse. That would derail the deal at least on the American side, but it is unclear whether it would have Trump's desired general effect, given that the Europeans, Russians and Chinese have no intention of re-instating sanctions.
Trump, a newcomer to international diplomacy, should recognise the new global strategic reality involving Iran, says Trita Parsi, president of the National Iranian-American Council. In its quest for formulating a viable Middle East strategy, the US needs to look eastward and rethink American interests.
Instead of being bogged down in endless conflicts by questionable allies who only want the US to fight their wars, maintaining the Iran deal would allow the United States to gain more maneuverability and become less dependent on traditional allies from Israel to Saudi Arabia to the Gulf states, Parsi says.
So far, Trump has given no hint of what his Middle East policy would look like. But his "America first" mantra may lead his administration to re-assess future involvements in that troubled region as well.