Syria: fighting continues, UN says aid not getting through
Comments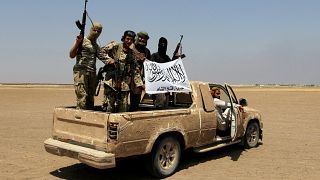 Days before the start of talks on the Syria conflict in the Kazakh capital Astana, fighting continues in a number of places.
An air strike – by either Russian or US planes – killed more than 40 members of the rebel jihadist group Jabhat Fateh al-Sham in the north west of the country on Thursday night, according to the Syrian Observatory for Human Rights.
Clashes were also reported near Idlib between Jabhat Fateh al-Sham and another Islamist rebel group Ahrar al-Sham.
The UN says fighting is still "tremendous" in many places including the Wadi Barada valley near Damascus, and around the desert town of Deir al-Zor.
It also complained all warring sides are routinely doing all they can to stop humanitarian aid getting to those who need it.
UN Syria envoy to be in Astana
UN Syria envoy Staffan de Mistura has been invited to peace talks convened by Russia, Turkey and Iran in Astana, his spokeswoman Yara Sharif has said.
A UN statement said de Mistura himself would lead the UN team in Astana because of the complexity and importance of the issues likely to be raised. The talks are expected to begin on Jan. 23 and the rebels remain very divided.
De Mistura has said he hopes Astana will support the next round of UN-led talks he plans in Geneva from February 8. Russia's Foreign Minister Sergei Lavrov has previously dismissed the negotiations in Geneva as "fruitless sitting around".
But on Friday, Lavrov told Russian news agencies that Moscow has observed positive signs in the Syria peace process and the Astana meeting as an important step toward establishing a framework for talks taking place in Geneva.
"Immense responsibility"
De Mistura's humanitarian advisor Jan Egeland said Russia, Turkey and Iran had taken on an immense responsibility as guarantors of a process that aimed to enable a new beginning for the civilian population.
Despite a nationwide "cessation of hostilities", aid is still not getting to people who need it the most, and all warring sides routinely do all they can to stop aid getting to women, children and wounded on the other side, he said.
Even if Syria's government approves UN aid plans, humanitarian convoys get blocked by a "complete, hopeless, bureaucratic quagmire" of red tape, Egeland said.
Russia, Iran and Turkey had told a weekly humanitarian meeting in Geneva that they would push all sides, including Syria's government, to stop preventing humanitarian aid from getting through, he added.