Obama grants most commutations as Presidency ends
Comments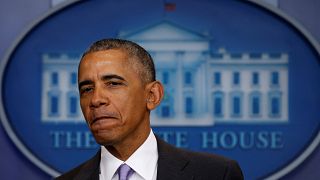 President Obama has commuted the sentences of 209 US prisoners in a move the White House described as giving individuals a "second chance".
Days before he makes way for Donald Trump, President Obama secured another place in history – as the President to commute the most prisoners' sentences while in office.
President Obama gave 1,385 commutation grants during his time in the White House – more than the previous 12 presidents combined.
Over 500 of the sentences commuted by Obama during his presidency were life sentences.
Commuting or pardoning?
To commute a sentence means to reduce the amount of time a convict serves for having committed a crime. In some cases criminals are released from jail on commuted sentences but they remain guilty of their offence, as opposed to pardoning, which sees offenders' criminal records wiped.
A pardon frees a prisoner from jail and absolves them of their crime.
President Obama has focused his commutations on non-violent drug offenders, which is seen as a small-scale attempt to solve social problems exacerbated by harsh sentencing guidelines and so-called "mandatory minimum" sentences.
Former president Bill Clinton recently apologised for his contribution to the problem of prison overcrowding – a phenomenon which many attribute to the introduction of these sentencing guidelines.
Along with the commutations, President Obama has pardoned 64 prisoners. Over his eight years in office, Obama has issued 212 pardons.
However, he will still end his presidency a fair way behind the leader in that category.
President Frankin D. Roosevelt pardoned 3,687 prisoners between 1933 and 1945.
To read more about what Obama has said on the subject and many others, visit our new site, euronews quotes.