Obama commutes Chelsea Manning sentence
Comments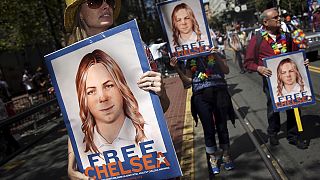 President Barrack Obama has shortened the prison sentence of former US military intelligence analyst Chelsea Manning.
The 29-year-old transgender US Army private who was born Bradley Manning is to be freed on May 17. Jailed for leaking classified material, she hadn't been due for release until 2045.
The announcement was one of Obama's final acts as president. Along with Manning he also commuted the sentences of 209 individuals and pardoned 64 others.
Edward Snowden has tweeted his thanks to Obama. There is now speculation over the future of the former National Security Agency contractor who also leaked surveillance documents and is now living as a fugitive in Russia.
Let it be said here in earnest, with good heart: Thanks, Obama. https://t.co/IeumTasRNN

— Edward Snowden (@Snowden) January 17, 2017
Julian Assange, the founder of Wikileaks which published Mannings material, has declared the news of Mannings imminent release a victory.
VICTORY: Obama commutes Chelsea Manning sentence from 35 years to 7. Release date now May 17. Background: https://t.co/HndsbVbRer

— WikiLeaks (@wikileaks) January 17, 2017
Manning was responsible for the biggest breach of classified material in US history. Manning was working as an intelligence analyst in Baghdad in 2010 when she gave WikiLeaks a trove of diplomatic cables and battlefield accounts that included a 2007 gunsight video of a US Apache helicopter firing at suspected insurgents in Iraq, killing a dozen people including two Reuters news staff.
To some Manning was seen as a whistleblower who revealed the harsh reality of US foreign policy, to others she was a traitor who has endangered its troops and spies.
.POTUS</a>&#39;s commutation of <a href="https://twitter.com/hashtag/ChelseaManning?src=hash">#ChelseaManning</a>'s sentence is a grave mistake that will encourage further acts of espionage <a href="https://t.co/nB5SeHCrKM">https://t.co/nB5SeHCrKM</a></p>&mdash; John McCain (SenJohnMcCain) January 17, 2017