Bosnian Serb 'national holiday' rally sparks row
Comments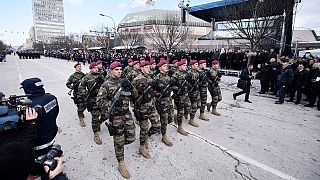 Bosnian Serb leaders have been celebrating their autonomous republic's national holiday despite a Constitutional Court ban.
January 9th marks the date when Bosnian Serbs declared independence after boycotting a referendum in which Bosniaks (Muslims) and Croats voted to secede from Serbian-led federal Yugoslavia, sparking war in which 100,000 people were killed.
In response to claims the demonstration risked stoking ethnic tensions, the Bosnian Serb president Milo Dodik vowed to protect the Republika Srpska's status under the Dayton Peace Accord but also warned it can't remain within Bosnia unless it is granted greater powers.
The nationalist celebration sparked anguish among some survivors of the 1995 Srebrenica massacre, the worst atrocity in Europe since World War Two, in which more than 8,000 Muslim men and boys were killed by Bosnian Serb forces.
Kada Hotic of the Mothers of Srebrenica and Zepa Association said: "Those who celebrate January 9 are not ashamed nor repented but they are proud of ruining our lives. I stayed in Srebrenica without my loved ones, without all the male members of the family, without my neighbourhood, and without a job."
NATO and the Sarajevo defence ministry warned Bosnian Serb leaders that the commemoration would be deemed illegal but it's unclear what action, if any, they will now take.