Venezuelan opposition activists freed, but '100 remain imprisoned'
Comments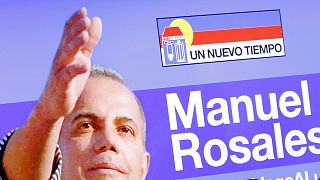 After being held for more than a year on corruption charges, Venezuelan former presidential candidate Manuel Rosales has been released from house arrest.
Five student activists, detained in prison since 2014, have also been freed.
Human rights groups, who considered the group political prisoners, say around a hundred opposition activists are still imprisoned for opposing President Nicolas Maduro.
The opposition blames his Socialist government and that of former President Hugo Chavez – who Rosales ran against – for the economic crisis in Venezuela.
In an effort to ease triple-digit inflation, Maduro has extended the use of 100 bolivar notes until January 20. Worth around four euro cents at the black market currency rate, the bill had been due to be abolished on January 2.
The president said several million higher denomination notes have now arrived in Caracas. But until they are put into circulation, many Venezuelans find themselves struggling to pay for basic supplies.