January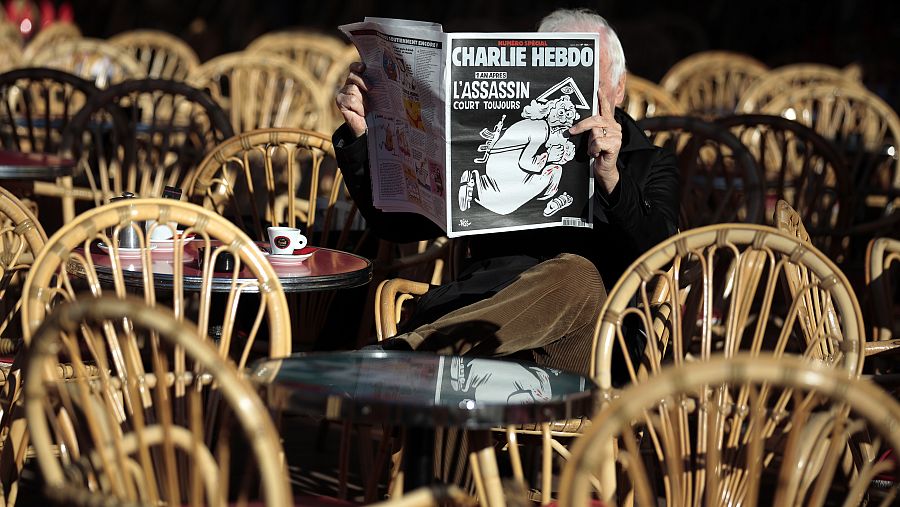 A man reads the latest edition of French satirical weekly newspaper Charlie Hebdo with the title "One year on, the assassin still on the run" on a cafe terrace in Nice, France, January 6, 2016.
REUTERS/Eric Gaillard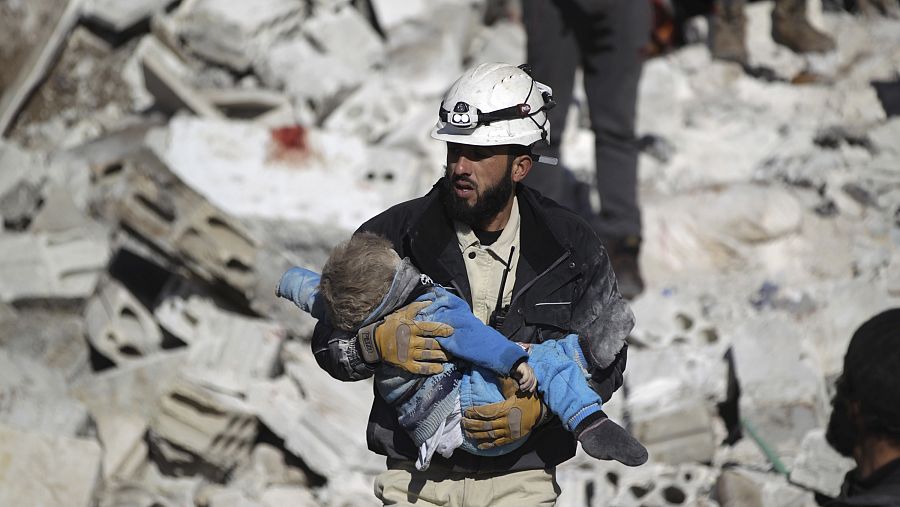 A rescue worker carries a dead child in a site hit by what activists said were air strikes carried out by the Russian air force in the rebel-controlled area of Maaret al-Numan town in Idlib province, Syria January 9, 2016
REUTERS/Khalil Ashawi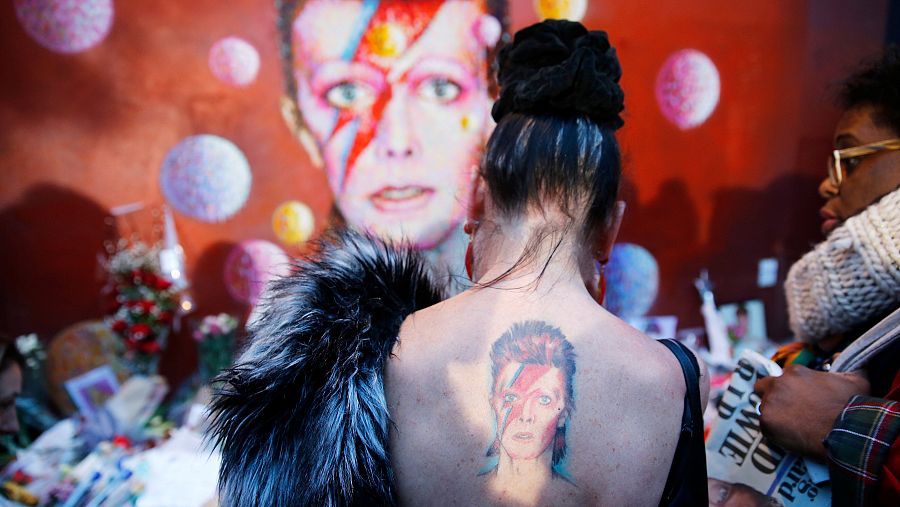 A woman with a Ziggy Stardust tattoo visits a mural of the late David Bowie in Brixton, south London, January 11, 2016.
REUTERS/Stefan Wermuth
February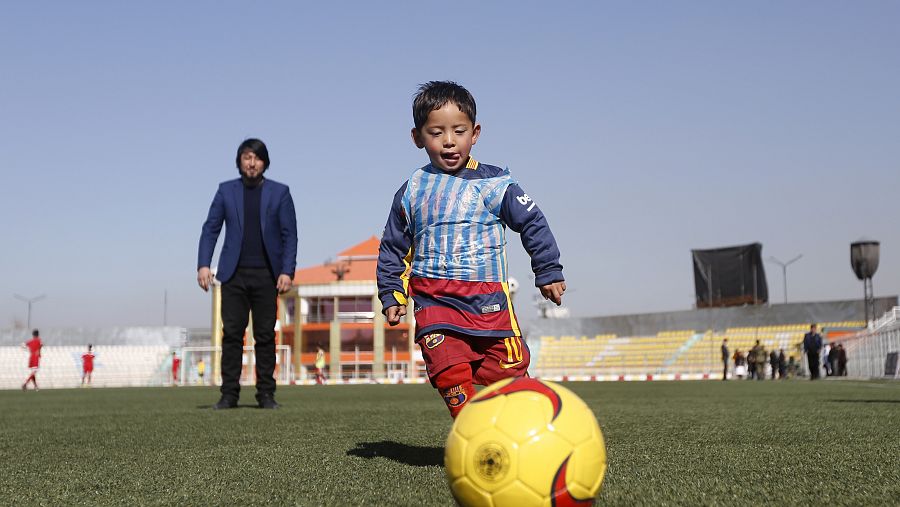 Five year-old Murtaza Ahmadi wears a plastic version of Barcelona star Lionel Messi's shirt, as he plays football at the Afghan Football Federation's headquarters in Kabul, Afghanistan, on February 2, 2016.
Ten months later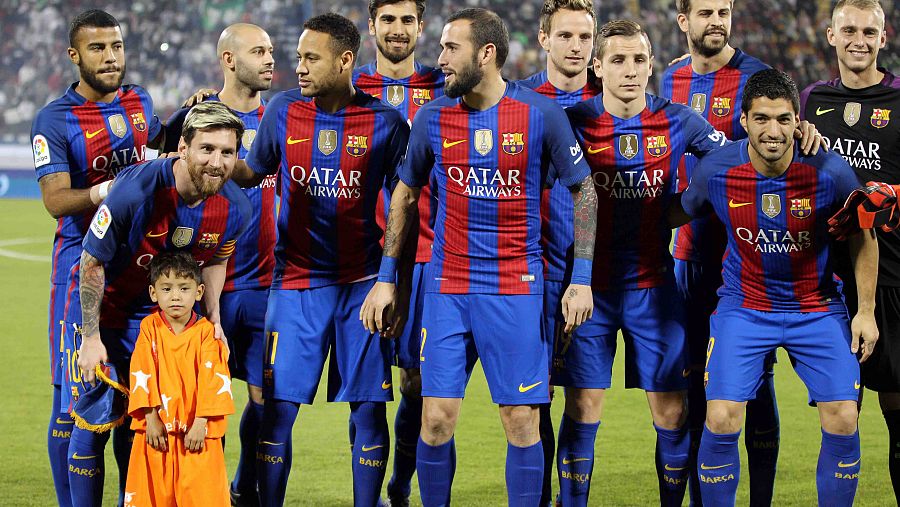 Lionel Messi and Barcelona's team pose for photographs with six-year-old Afghan boy Murtaza Ahmadi before the match in Doha, Qatar – December 13, 2016.REUTERS/Ibraheem Al Omari
March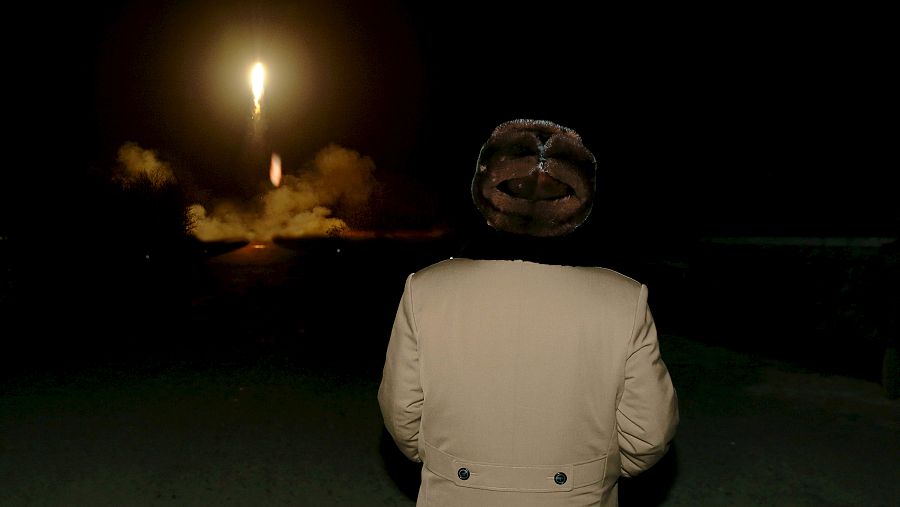 North Korean leader Kim Jong Un watches the ballistic rocket launch drill of the Strategic Force of the Korean People's Army (KPA) at an unknown location, in this undated file photo released by North Korea's Korean Central News Agency (KCNA) in Pyongyang on March 11, 2016. REUTERS/KCNA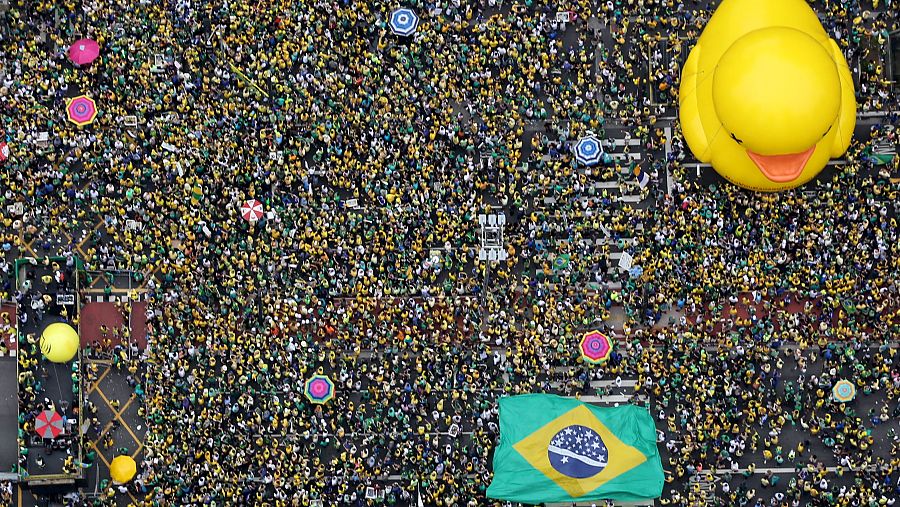 Demonstrators attend a protest against Brazil's President Dilma Rousseff, part of nationwide protests calling for her impeachment, in Sao Paulo, Brazil, March 13, 2016. REUTERS/Paulo Whitaker
April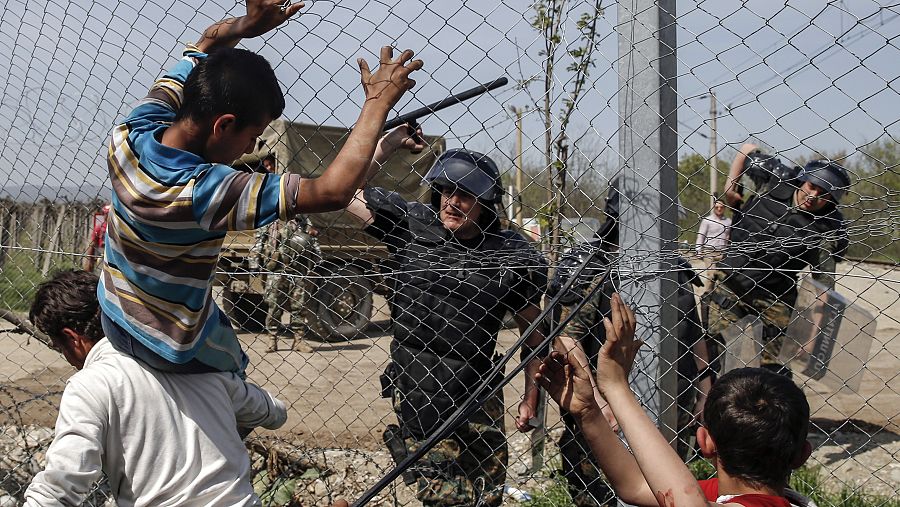 A Macedonian policeman uses his baton to prevent migrants and refugees to open the border fence at a makeshift camp at the Greek-Macedonian border near the village of Idomeni, Greece, April 7, 2016. REUTERS/Marko Djurica
May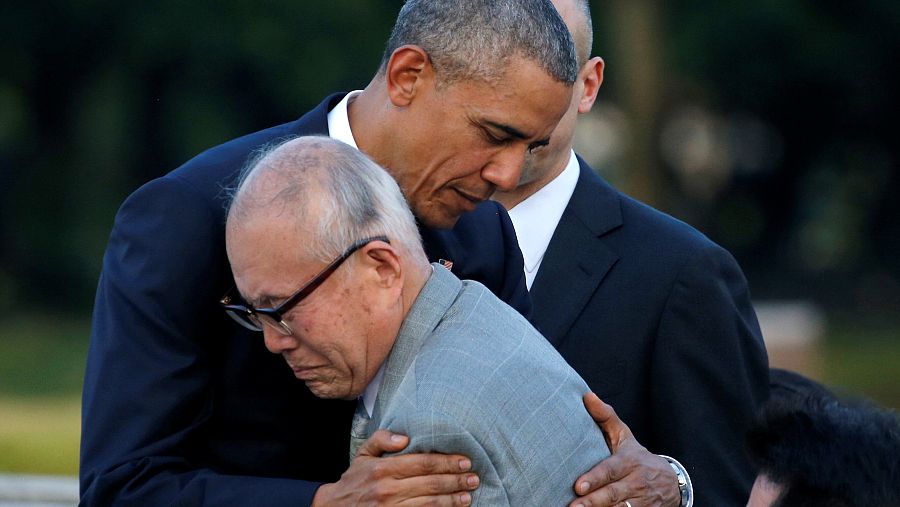 U.S. President Barack Obama hugs with atomic bomb survivor Shigeaki Mori as he visits Hiroshima Peace Memorial Park in Hiroshima, Japan May 27, 2016. REUTERS/Carlos Barria
June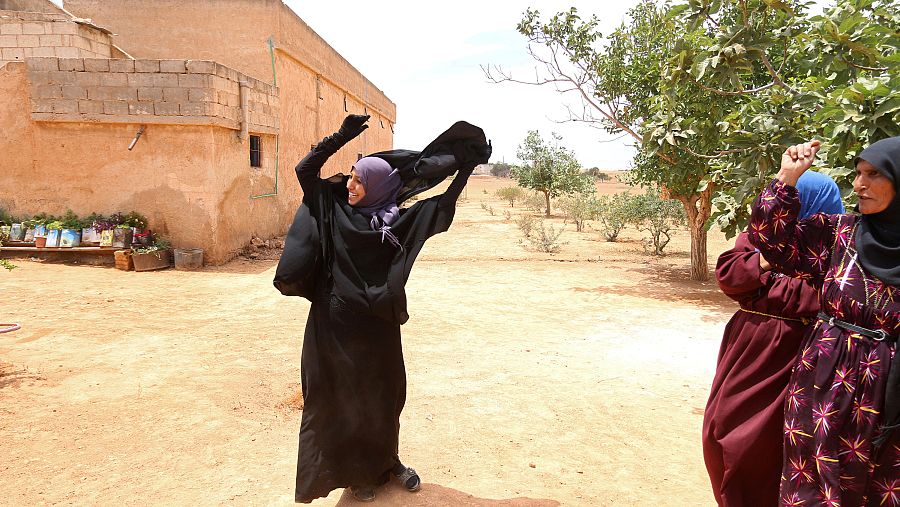 A woman removes a Niqab she was wearing in her village after Syria Democratic Forces (SDF) took control of it, on the outskirts of Manbij city, Aleppo province, Syria June 9, 2016. REUTERS/Rodi Said/File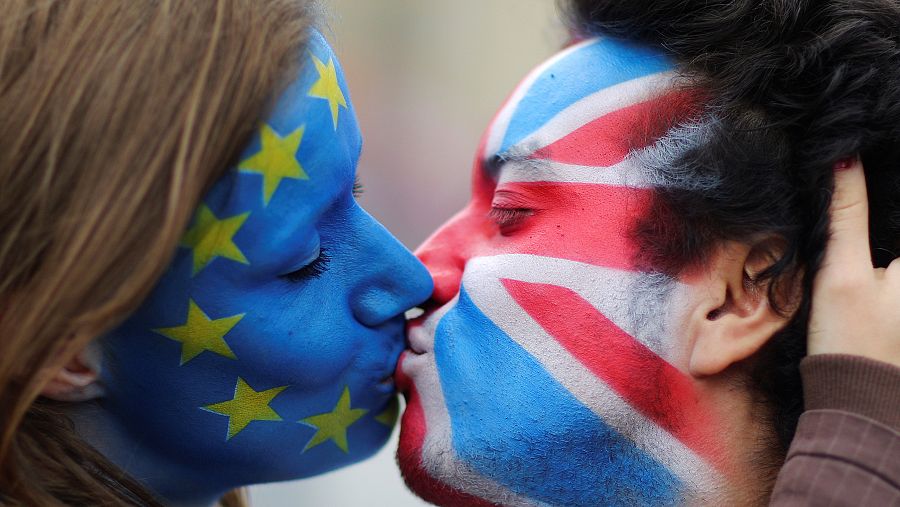 Two activists with the EU flag and Union Jack painted on their faces kiss each other in front of Brandenburg Gate to protest against the British exit from the European Union, in Berlin, Germany, June 19, 2016. REUTERS/Hannibal Hanschke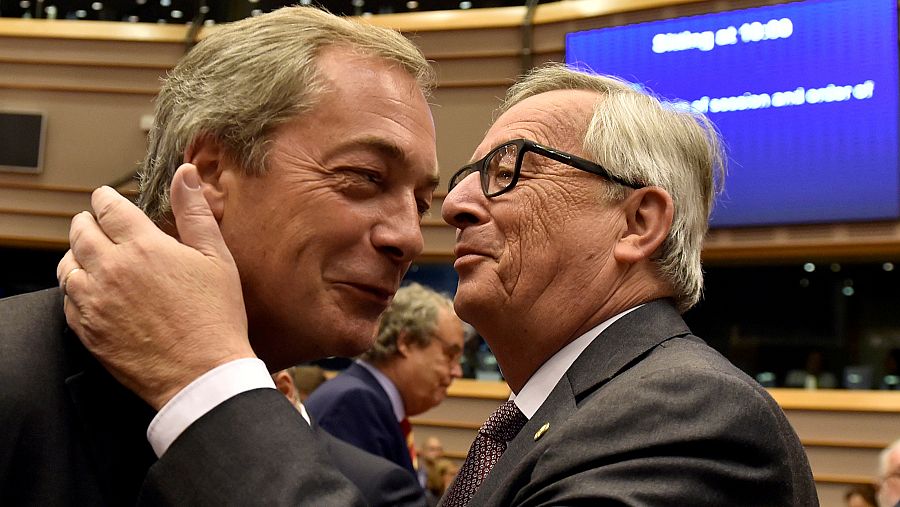 European Commission President Jean-Claude Juncker welcomes Nigel Farage, the leader of the United Kingdom Independence Party, prior to a plenary session at the European Parliament on the outcome of the "Brexit" in Brussels, Belgium, June 28, 2016. REUTERS/Eric Vidal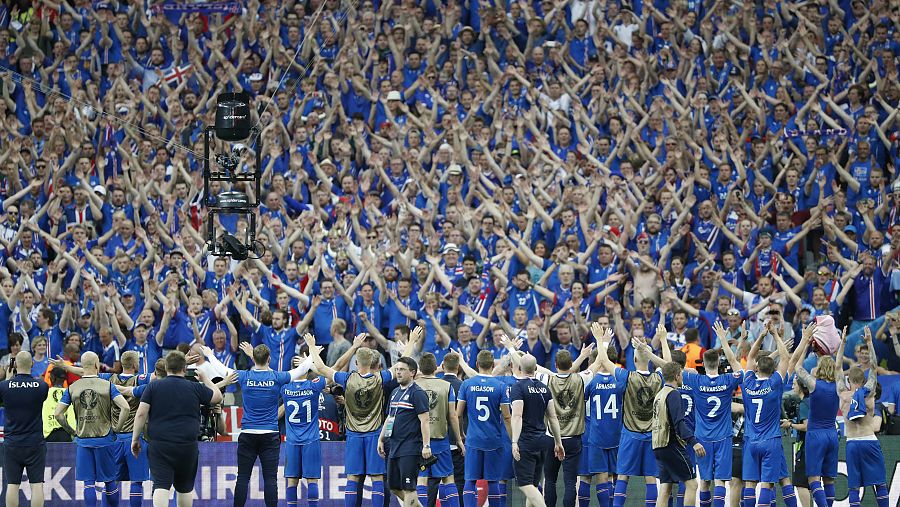 EURO 2016: Iceland's players and fans celebrate after the match against Austria in Stade de France Paris Saint-Denis, France June 22, 2016.
REUTERS/Christian Hartmann
July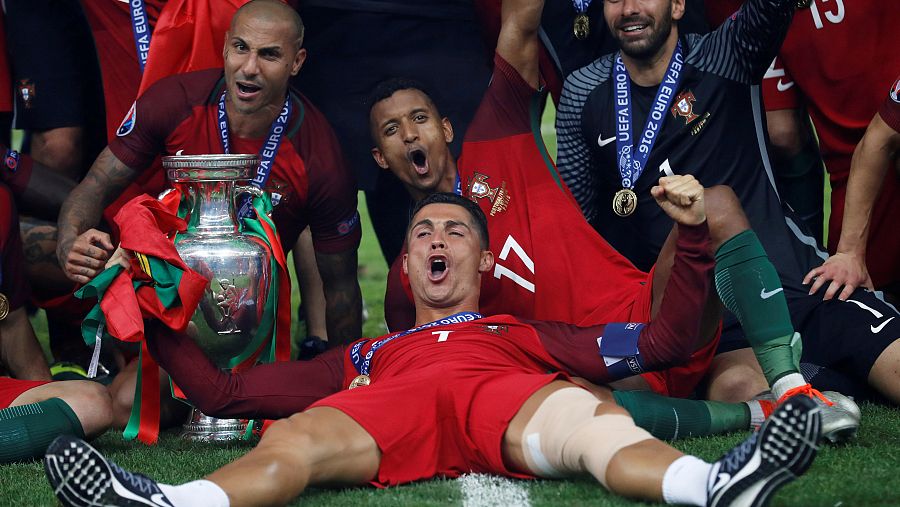 Portugal's Cristiano Ronaldo celebrates with Ricardo Quaresma, Nani, Rui Patricio and the trophy after winning Euro 2016 in Stade de France Paris Saint-Denis, France July 10, 2016.
REUTERS/Carl Recine/Livepic/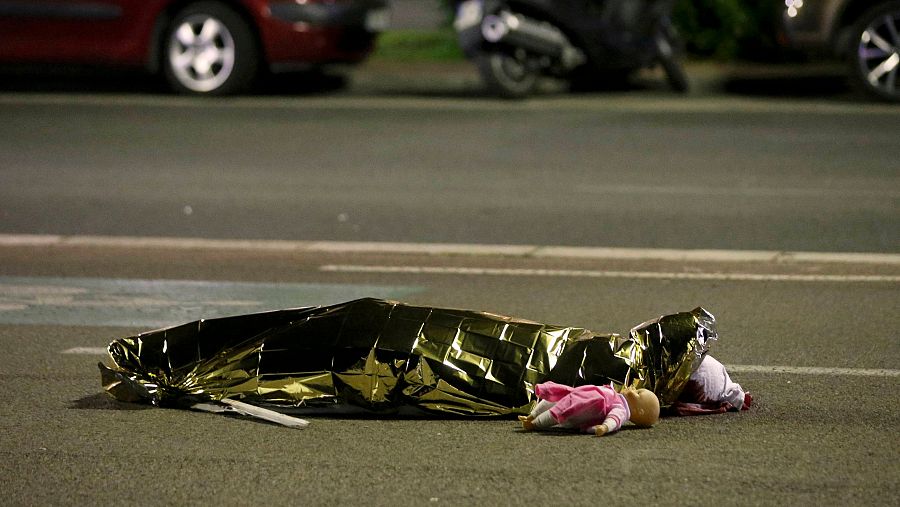 A body is seen on the ground in Nice, France July 15, 2016 after the Bastille Day truck attack by a driver who ran into a crowd on the Promenade des Anglais that killed scores on July 14. REUTERS/Eric Gaillard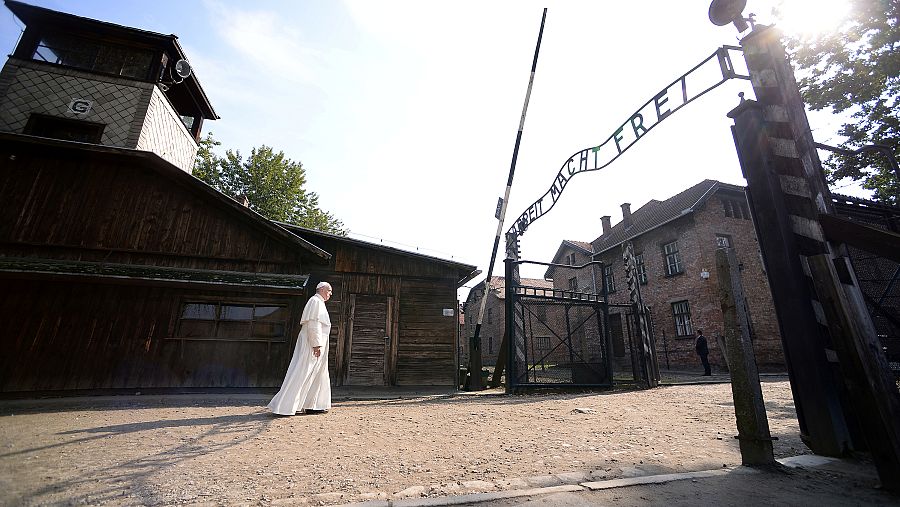 Pope Francis walks through Auschwitz's notorious gate with the sign "Arbeit Macht Frei" (Work sets you free) during his visit to the former Nazi death camp, Poland, July 29, 2016. REUTERS/Filippo Monteforte/Pool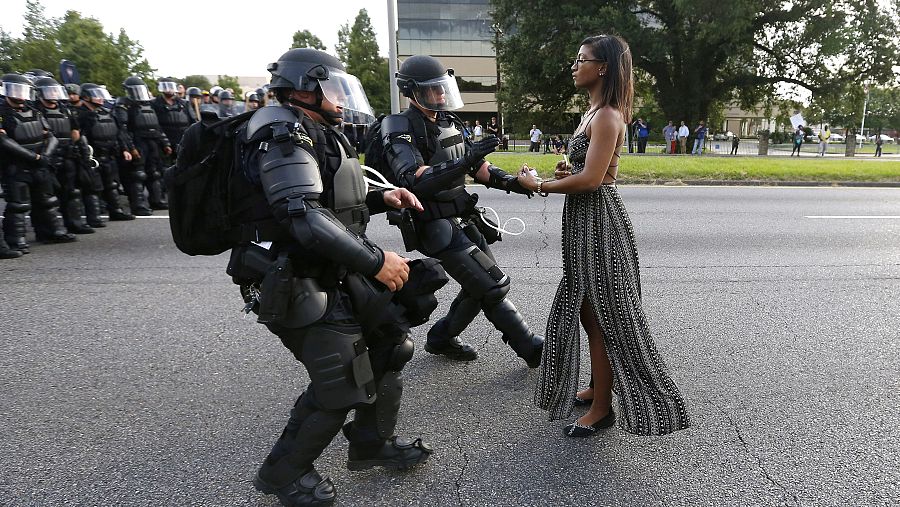 A demonstrator protesting the shooting death of Alton Sterling is detained by law enforcement near the headquarters of the Baton Rouge Police Department in Baton Rouge, Louisiana, U.S. July 9, 2016. REUTERS/Jonathan Bachman/
August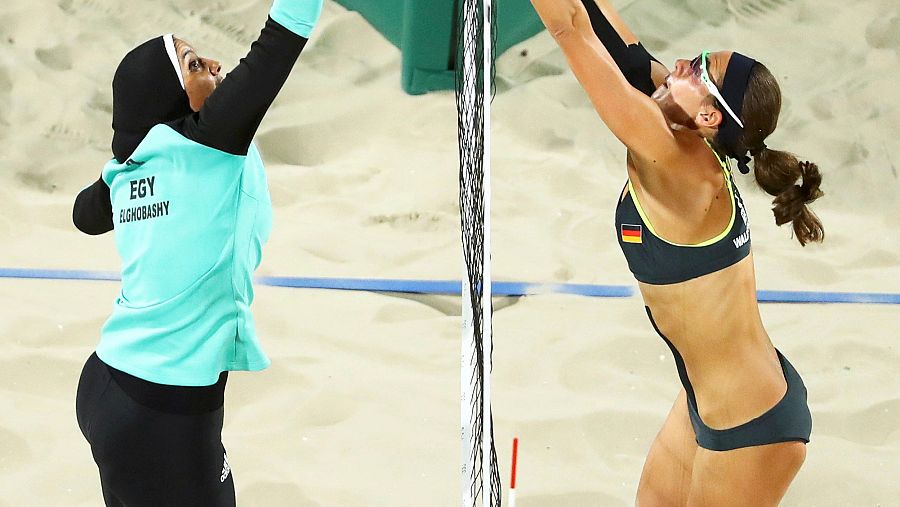 2016 Rio Olympics – Beach Volleyball – Women's Preliminary – Beach Volleyball Arena – Rio de Janeiro, Brazil – 07/08/2016. Doaa Elghobashy (EGY) of Egypt and Kira Walkenhorst (GER) of Germany compete REUTERS/Lucy Nicholson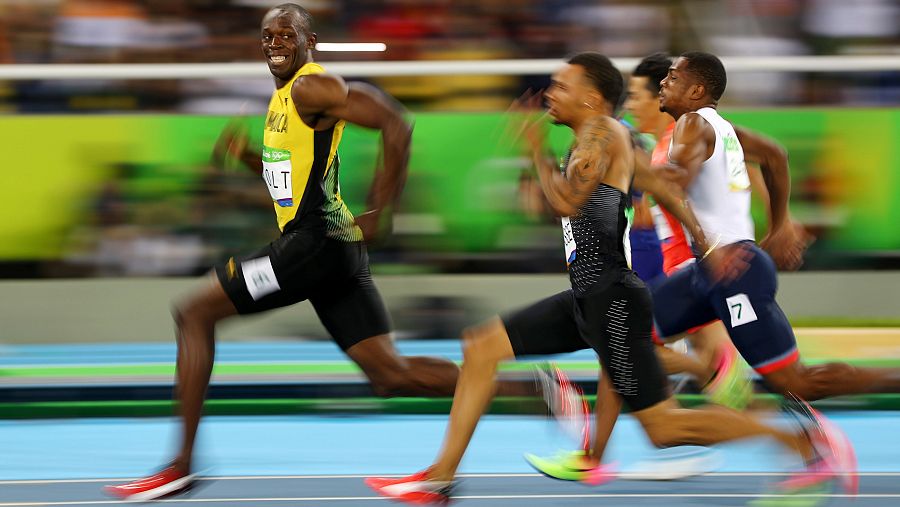 Usain Bolt (JAM) of Jamaica looks at Andre De Grasse (CAN) of Canada as they compete.
2016 Rio Olympics – Athletics – Semifinal – Men's 100m Semifinals – Olympic Stadium – Rio de Janeiro, Brazil – 14/08/2016 REUTERS/Kai Pfaffenbach
September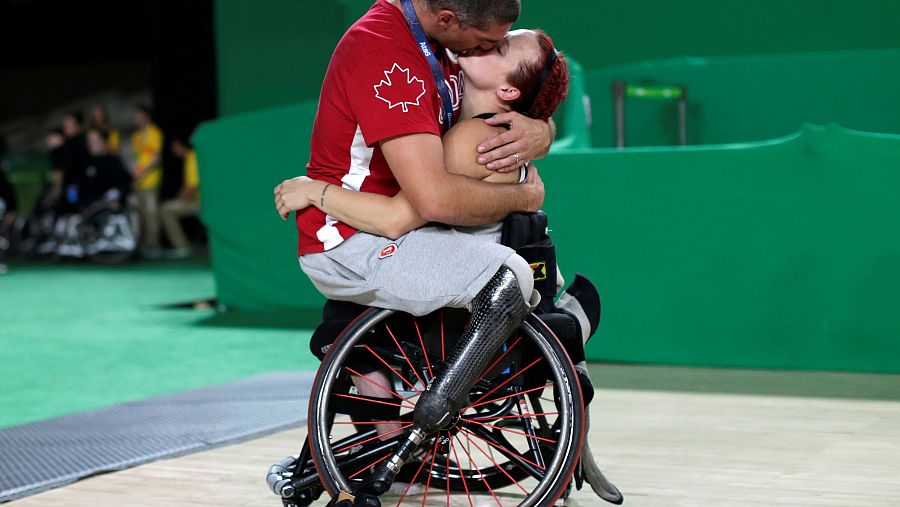 2016 Rio Paralympics – Wheelchair Basketball – Playoff – Women's Playoff – Canada v China – Rio Olympic Arena – Rio de Janeiro, Brazil – 16/09/2016. Canada's men's wheelchair basketball team player Adam Lancia kisses his wife Jamey Jewells of Canada after her match. REUTERS/Ueslei Marcelino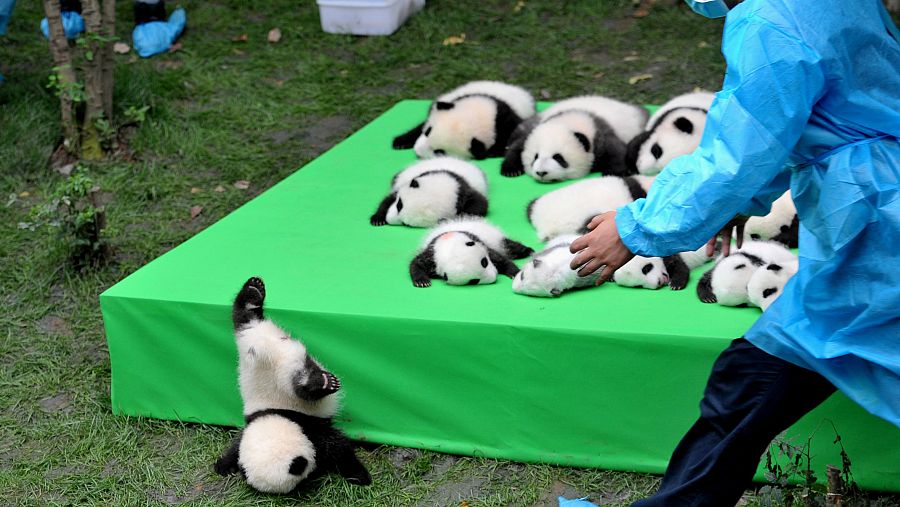 A giant panda cub falls from the stage while 23 giant pandas born in 2016 are seen on a display at the Chengdu Research Base of Giant Panda Breeding in Chengdu, Sichuan province, China, September 29, 2016. China Daily/via REUTERS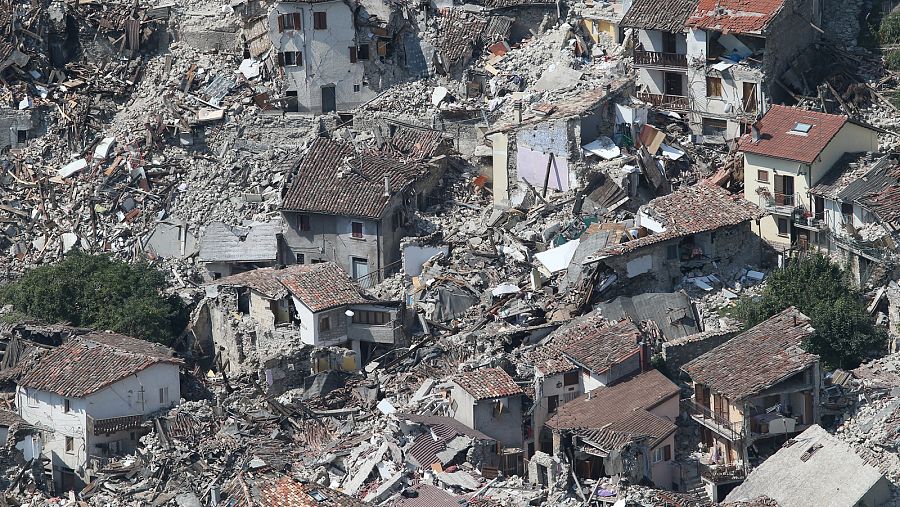 A general view after an earthquake that levelled the town of Pescara del Tronto, central Italy, September 1, 2016. REUTERS/Stefano Rellandini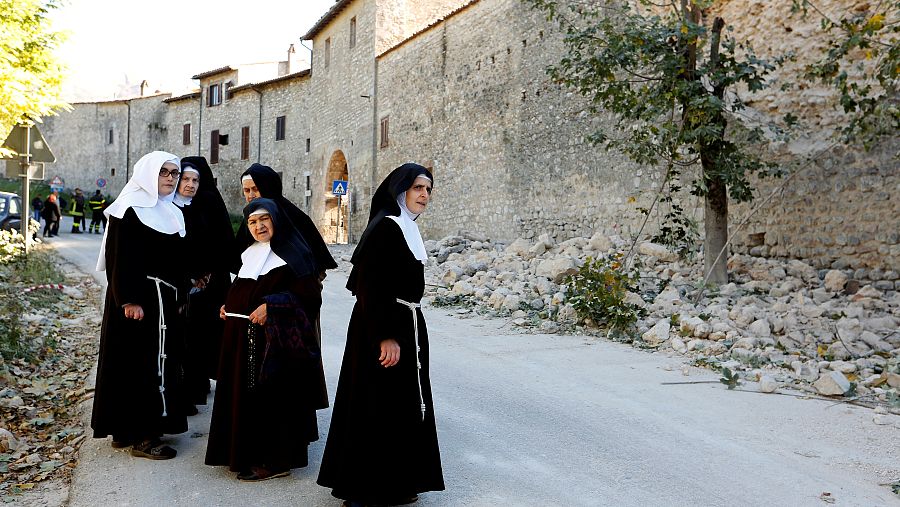 Nuns stand next a partially collapsed wall following an earthquake in Norcia, Italy, October 30, 2016. REUTERS/Remo Casilli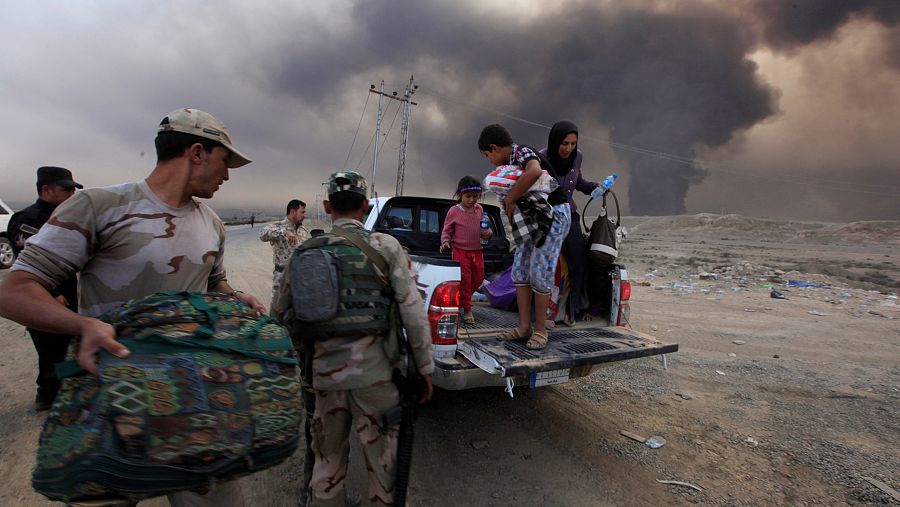 Displaced people who are fleeing from clashes arrive in Qayyarah, during an operation to attack Islamic State militants in Mosul, Iraq, October 19, 2016. REUTERS/Alaa Al-Marjani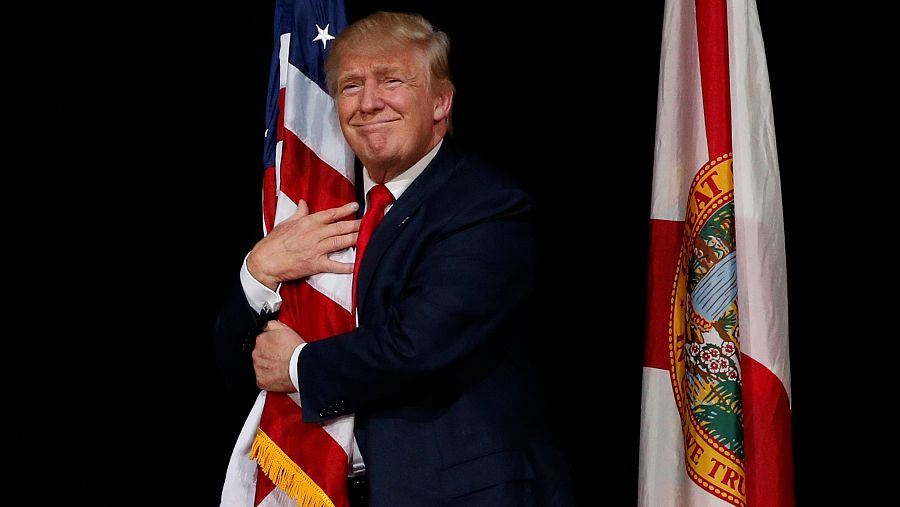 Republican U.S. presidential nominee Donald Trump hugs a U.S. flag as he comes onstage to rally with supporters in Tampa, Florida, U.S. October 24, 2016. REUTERS/Jonathan Ernst
Two and a half weeks later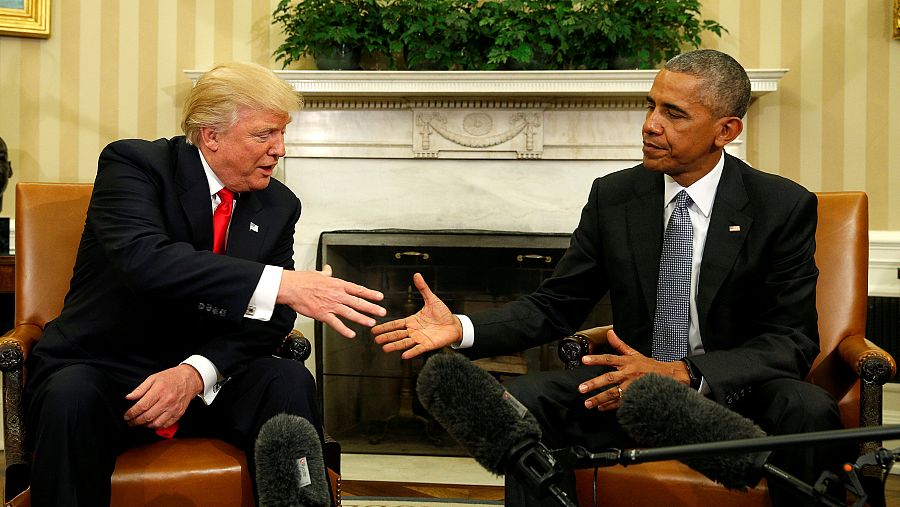 U.S. President Barack Obama meets with President-elect Donald Trump in the Oval Office of the White House in Washington November 10, 2016. REUTERS/Kevin Lamarque/
November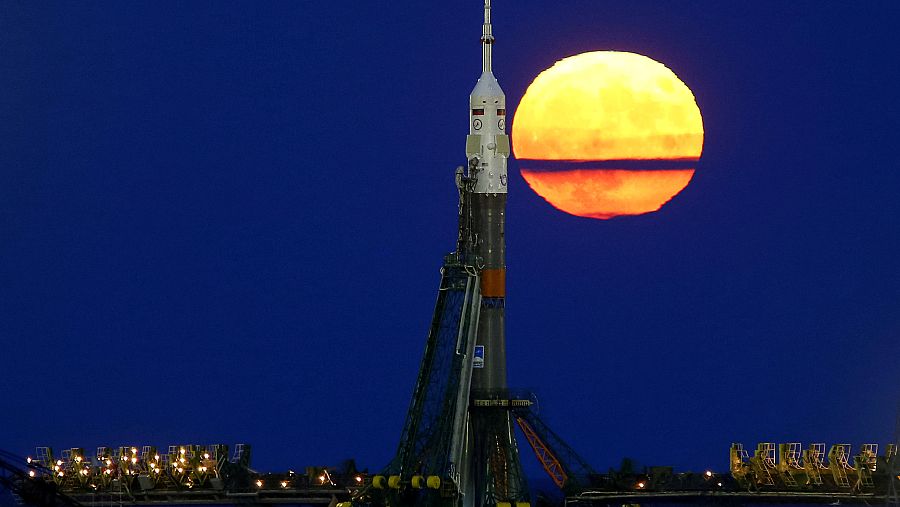 The supermoon rises behind the Soyuz MS-03 spacecraft, ahead of its upcoming launch to the International Space Station (ISS), at the Baikonur cosmodrome in Kazakhstan November 14, 2016. REUTERS/Shamil Zhumatov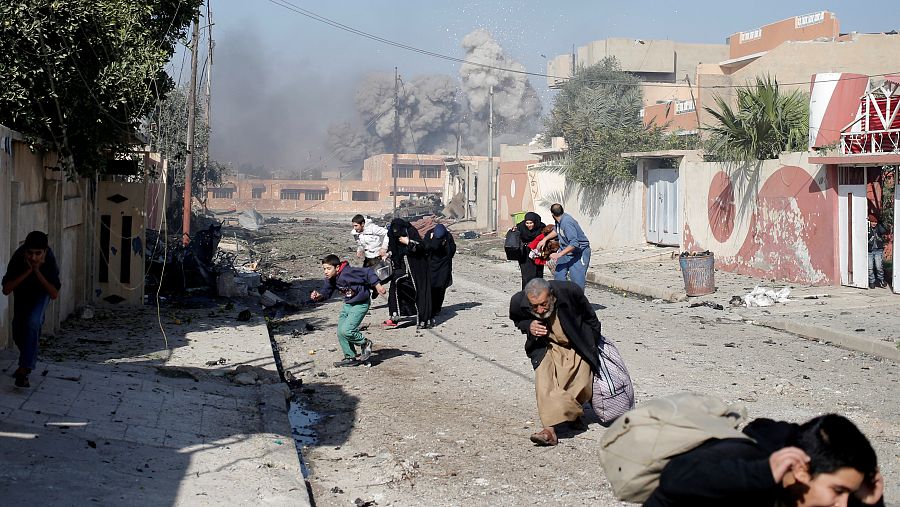 People run in panic after a coalition airstrike hit Islamic State fighters positions in Mosul, Iraq, November 17, 2016.
REUTERS/Goran Tomasevic
December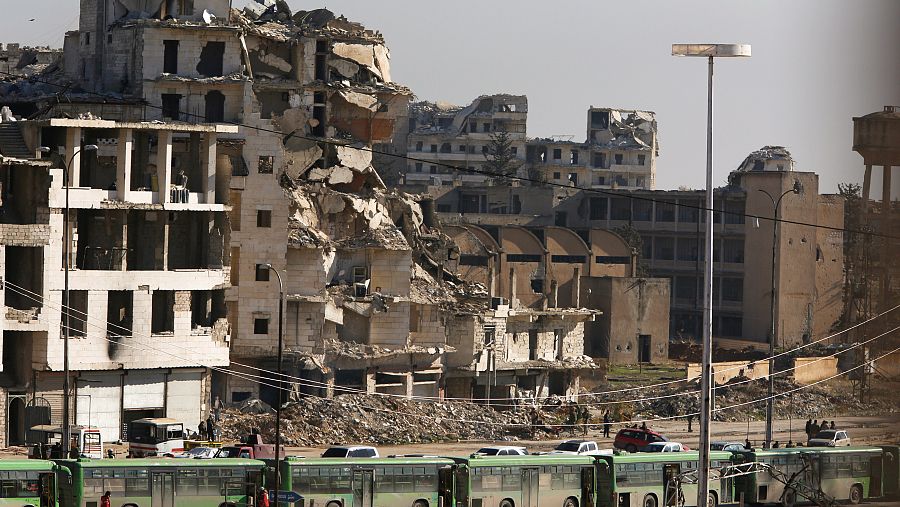 Buses are seen parked in Aleppo's government controlled area of Ramouseh, as they wait to evacuate civilians and rebels from eastern Aleppo, Syria December 15, 2016. REUTERS/Omar Sanadiki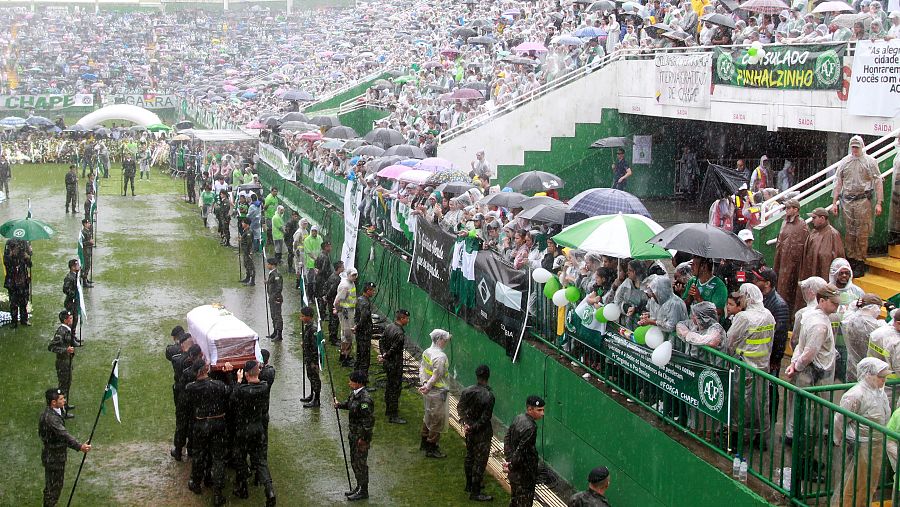 The coffin of one of the victims of the plane crash in Colombia arrives at the Arena Conda stadium in Chapeco, Brazil, December 3, 2016. REUTERS/Diego Vara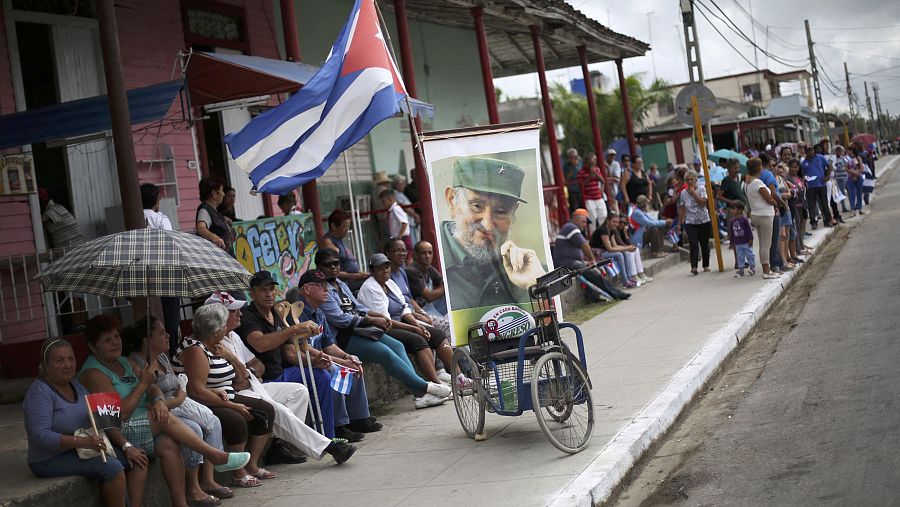 People hold Cuban flags and images of Fidel Castro as they await the arrival of the caravan carrying the late Cuban President's ashes in Jatibonico, Cuba, December 1, 2016. REUTERS/Edgard Garrido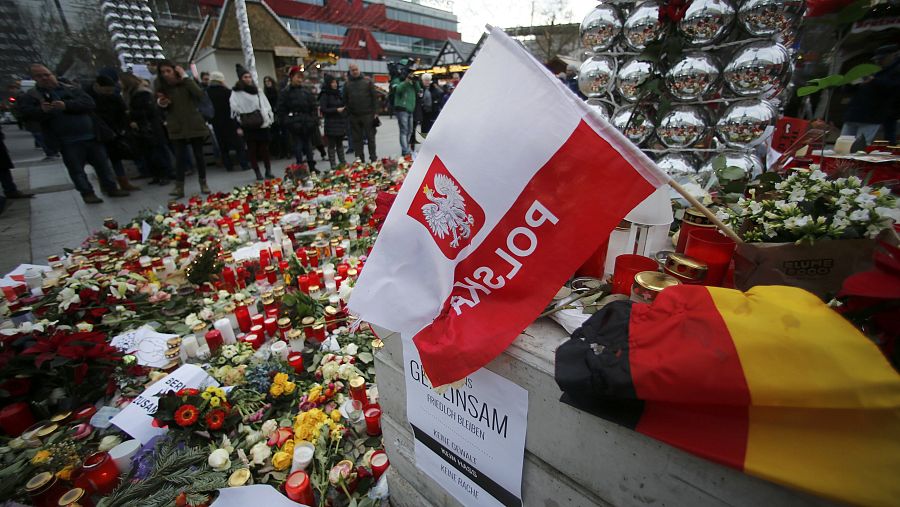 Flowers and candles are placed near the Christmas market at Breitscheid square in Berlin, Germany, December 22, 2016, following an attack by a truck which ploughed through a crowd at the market on Monday night. REUTERS/Hannibal Hanschke