Aleppo's fate overshadows Brussels summit
Comments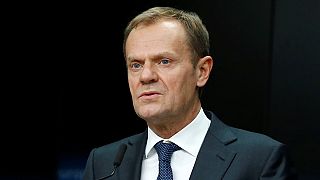 The enormity of events in Aleppo overshadowed talks at an EU summit between European leaders in Brussels on Thursday.
Invited into the heart of the European Council by President Donald Tusk, the Mayor of Eastern Aleppo Brita Hagi Hasan begged leaders to be courageous and send forces to monitor the evacuation of civilians still trapped inside the Syrian city.
The EU has largely been sidelined during Syria's civil war, something President Tusk admitted with regret.
"Faced with the brutality of the Syrian regime and its supporters, notably Russia and Iran, we are not as effective as we would like to be but we are not indifferent to the suffering of the Syrian people. We will exert pressure on other global players who are present in Syria using all available diplomatic channels," the EU Council President said.
That pressure is expected to include the immediate demand by Europe for the opening of humanitarian corridors to allow aid into Aleppo and for civilians to be evacuated safely under what Tusk called ''neutral, international supervision.''
But, for the moment at least, Europe appears to have little say, both on the ground in Syria and on the global diplomatic front.
From Brussels, Euronews' James Franey said: ''After one year of Syria peace talks backed by the US and Russia, the fall of Aleppo has shown the failure of that diplomatic effort. Time is running out for the Obama administration and its European allies to broker a solution. In just over four weeks there'll be a new president in the White House. And one who appears to be far friendlier toward Moscow than the current tenant."