French cities restrict traffic as pollution hits western Europe
Comments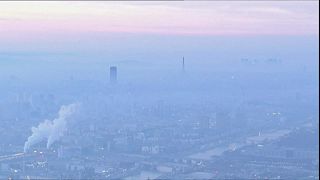 Parts of western Europe are experiencing some of their worst pollution for several years.
In Paris air quality has been close to the highest alert level.
For only the fourth time in 20 years, the French capital has been restricting traffic via odd and even number plates.
Lyon is following suit for the first time from Friday – just as hundreds of thousands of visitors are expected in the French city for the annual Lights Festival.
But the amount of dangerous particles rising each day, households and industry have been asked to reduce emissions. As in Paris, public transport is to be made free.
"It does worry me a little, because I have a baby and I live in the city, so yes yes, I'm worried," said one woman out walking in Lyon.
"It doesn't bother me, I go on foot, I don't travel by car but it is annoying for people who do drive," a man added.
⚠️ Due to high levels of #pollution, all public transport is free today in the #Paris region. https://t.co/jiMNU85CV5

— Paris Je t'aime (@ParisJeTaime) December 8, 2016
Italy has the highest number of premature annual deaths from nitrogen dioxide, caused by diesel vehicles – according to the European Environment Agency.
The UK was second in the table published last month, which branded part of London Europe's worst spot for the toxic gas – even though a toll system has been implemented for cars entering the city for over a decade.
Several parts of Belgium, including Brussels, have also seen a sharp rise in pollution levels linked to cars.
As elsewhere, weather conditions – a lack of wind combined with cold air sitting under a warmer layer – are trapping pollutants.
#Paris aujourd'hui. La preuve de la nécessité de réduire la place de la voiture en centre-ville #pollutionpic.twitter.com/R10Tdu4o2Y

— Anne Hidalgo (@Anne_Hidalgo) December 6, 2016