Views of Berlin - from a Syrian tour guide
Comments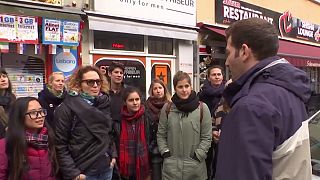 When city guide Firas Zakri takes you on a tour of Berlin, don't expect to see the Brandenburg Gate, the city's famous TV tower or other well-known landmarks of the German capital.
Zakri, who's 34, came from Syria last year in search of asylum and soon began working for a firm that used to offer city guides by former homeless people.
Now it's branched out to offer people a new view of the city.
"This year we started this project with refugee background in order to open people's eyes about the whole story about who we really are," said Zakri.
The so-called 'refugee tours' have become so successful the company behind the project is looking to boost the number of its workers.
"So we want to share our stories and try to change people's mind; try to build bridges between communities because once you build the bridges and started to connect you will have different look," added Zakri.
He still feels like a newcomer to the city and doesn't speak a lot of German, but when it comes to introducing tourists to all the Berlin places that matter to asylum seekers, he's already a true expert.
Ana Carolina Falcao, is a tourist from Brazil:
"I could see the city from different eyes I could see the city from the perspective of someone that's here in a totally different situation than me because I'm here as a tourist and to listen the story of this guy and everything that he passed through is very interesting and very inspiring for the future as well. It was a really amazing experience."
Becoming a refugee is not a choice anyone makes voluntarily, Zakri says and he hopes, in some small way, his tours will help change people's perspectives' about Germany's new guests.