Colombia ceasefire extended as rebels attempt peace
Comments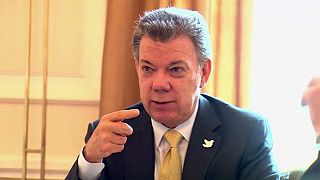 Colombian President Juan Manuel Santos has agreed a ceasefire extension with Farc rebels to last until the end of the year.
A peace deal signed by the government and the left-wing rebel group last month was narrowly rejected in a referendum.
The leader, who was awarded the Nobel Peace Prize for his role in reaching the agreement, has spent time meeting with those who campaigned against the peace deal and will take new proposals to a meeting with Farc leaders in Cuba.
Santos said that his decision to extend the ceasefire was made after a meeting with students who organised marches through Bogota to support the peace agreement.
"One of the students reminded me that in the army and in the guerrilla ranks, there are young people waiting to see what happens, hoping that they don't need to fire another shot," Mr Santos said in a televised address.
"For that reason, and at the request of the students, I have taken the decision to extend the ceasefire until 31 December."
Students, workers and teachers of the National University of Colombia gather in order to take the streets and support #PeaceInColombiapic.twitter.com/gfQJR2XyQw

—

FARC

International (@FARC_EPeace) October 5, 2016
Who are Farc?
The Revolutionary Armed Forces of Colombia, known as Farc after their initials in Spanish, are the largest rebel group in Colombia.
Born out of the rampant inequality and repression in Colombia at the time, the group was initially founded as the armed wing of the country's Communist Party in 1964.
Predominantly a rural guerilla organisation, Farc has few urban groups and was brought about by farmers and land workers who banded together to fight against the establishment.
Security forces estimate that there are as many as 7,000 active fighters in the Farc ranks and that a further 8,500 Colombians make up their support network.
The group's highest ranking leader is Rodrigo Londono Echeverri, better know by his alias Timochenko.
Civil conflict in #Colombia between the government and the #FARC has left over 200,000 dead. Get the background: https://t.co/fwX6eHDE5cpic.twitter.com/oZb2d3mHqf

—

CFR

(@CFR_org) October 8, 2016
Other groups follow suit
Colombia's second largest group of armed rebels, the ELN, appeared to be open to peace negotiations, and recently released a hostage as a sign of good will.
However, days later the group was responsible for an attack on two Colombian officials of the national police service in the southwestern department of Cauca.
The two men were set upon in the jungle "by a machine gun and simultaneously by explosives, such as rifle grenades," police general, Edgar Rodriguez, told local media
No statement was made as to how the attack might affect peace negotiations.
Colombians who campaigned against the peace deal, led by former President Alvaro Uribe, said they wanted tougher punishments for the rebels.
In the rejected peace deal, Farc guerillas were offered seats in colombia's congress and non-custodial sentences.