Two crew killed in river cruise boat collision in southern Germany
Comments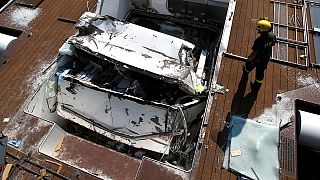 Two crew members have died when a river cruise boat hit a bridge in southern Germany.
More than 200 passengers and crew were safely evacuated and no injuries were reported.
The boat was on a cruise from Erlangen to the Hungarian capital of Budapest when the collision occurred.
The two victims died when the driver's cabin hit the bridge. An investigation has been launched into the cause of the accident.