How could extremist Anjem Choudhary speak to the media so freely?
Comments
By
Euronews
with
Reuters, BBC, Guardian, Spectator, Daily Mail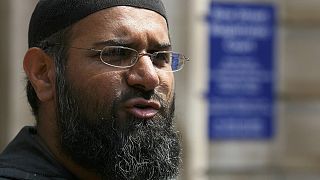 For years the preachings of extremist Islamic cleric Anjem Choudary successfully stayed within the boundaries of British law – perhaps because he had once trained as a lawyer – but in 2014 he finally went too far and was arrested after exhorting people to support Islamic State.
In London's most famous criminal court, the Old Bailey, Choudary was convicted last month of using online lectures and messages to encourage backing for the banned extremist group which controls large parts of Syria and Iraq.
There was no evidence that Choudary himself planned or carried out any terror attacks but there was evidence of him supporting Islamic State, a banned group.
Prosecutors said that in postings on social media Choudary had sought to validate the self-proclaimed "caliphate" declared by Islamic State's leader Abu Bakr al-Baghdadi and that Muslims had an obligation to obey or support him.
Twitter and YouTube would not remove Anjem Choudary's posts, court told – the guardian https://t.co/Ms3uBj7wm2

— tansleyc (@tansleyc) August 17, 2016
Choudary was convicted alongside fellow extremist Mohammed Mizanur Rahman, although a media reporting ban meant that the convictions could not be made public until earlier this week. They are both due to be sentenced in September. Choudary, who is 49 and has five children, is likely to receive the maximum 10-year sentence.
Media platform
It has taken counter-terrorism investigators almost 20 years to bring Choudary to court, but it was not their failure to convict him that has upset so many commentators and many Muslims, instead it was the platform that parts of Britain's media gave him during that time.
It was obvious that Britain's tabloid press would report his crazy proclamations such as "the flag of Islam would soon fly over 10 Downing Street", the prime minister's residence, but it was the interviews conducted by the state broadcaster, the BBC, and other serious media outlets which many people could not stomach.
BBC, Fox News, CNN, Channel 4, and even GMTVhttps://t.co/u9gRWXSb9t

— Middle East Eye (@MiddleEastEye) August 18, 2016
Banned from many mosques, Choudary often resorted to preaching on street corners and at demonstrations. In one BBC video from 2007 convicted killer Michael Adebolajo was filmed standing behind Choudary as he preached. Six years later Adebolajo stabbed fusilier Lee Rigby to death outside an army barracks in Woolwich in south-east London.
The BBC repeatedly interviewed Choudary, including granting him a lengthy interview just after Rigby's death on 'Today', their main morning radio news programme.
Why did the BBC give a platform to Anjem Choudary? https://t.co/bTwKEkEk8Ppic.twitter.com/zbpODaKfX1

— Coffee House (@SpecCoffeeHouse) August 17, 2016
Like so many others the Telegraph newspaper has blamed Britain's hopeless tolerance but in fact Britain has almost always been tolerant of the radicals in its midst.
After 9/11 the French start calling Britain's capital Londonistan and even before that in the 1990s French intelligence had grown exasperated with their British counterparts – didn't they realise that extremely violent Algerian terrorists were happily operating in the city? (At the time Algeria was plagued by a vicious civil war between its government and Islamic extremists which killed over 100,000 people.)
Freedom of speech
Perhaps the answer is that Choudhary was given a platform because it was both perfectly legal for him to air almost all his views – before he exhorted his supporters to follow so-called Islamic State – and because of the pride of place freedom of speech has in Britain.
In Britain freedom of speech is less circumscribed than it is in France – Choudhary would never have been able to speak at demonstrations there and it is unlikely any mainstream French media outlet would have aired his views.
When Britain's Prime Minister Theresa May was the Home Secretary (interior minister) she spent years trying to deport extremist clerics, including Abu Qatada, so he could face criminal charges in Jordan. Only when Jordan agreed not to use any evidence obtained under torture was the deportation achieved in 2013 and he was acquitted of all terrorism charges in a trial in Amman in July. She also fought a lengthy legal battle to extradite extremist cleric Abu Hamza to the US who is now serving a life sentence for providing material supports to terrorists.
May has repeatedly said that Britain should abandon the European Convention on Human Rights. But many of the adherents of greater levels of freedom of speech maintain that the space allowed to extremists, Islamic and otherwise, in British society, actually limits the support of extremists. If you drive them underground, the argument goes, they will only attract more support.
A fresh audience – behind bars
The irony now is that Choudary, who is described as being particularly charismatic, will be able to preach to a very vulnerable and impressionable population for years to come – his fellow inmates in prison. Government reports have highlighted that prisoners, many of whom have mental health problems and low IQs, are an easy target for radicalisation and Choudary had even said that were he to be imprisoned he would carry on preaching.
Despite this it is unlikely he will be held in isolation as that would breach his human rights, meaning that Britain's under-staffed prison system will have to try other ways of limiting his influence.