US Attorney General say probe into Hillary Clinton's email server is over
Comments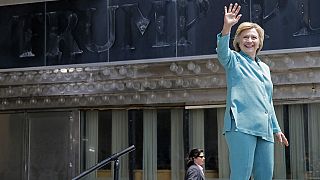 US Attorney General Loretta Lynch says she has finally drawn a line under the investigation into Hillary Clinton's email server.
In a statement she accepted the FBI's recommendation that no one be charged in the case which has dogged Clinton's presidential ambitions for over a year.
The email scandal refers back to when Clinton was US Secretary of State and she opted to use her personal email account for work as a matter of convenience.
Last week the FBI interviewed her concluding that although she had been "extremely careless" in the distribution of classified information across unsecured email networks there should be no criminal charges.
In theory it leaves Clinton to concentrate on her bid for the White House, however Republican rival Donald Trump has accused her of bribing Lynch refering to reports that if elected Clinton might ask Lynch to stay on as attorney general.
The announcement by Lynch came on the eve of a congressional hearing Thursday (July 7) at which FBI chief James Comey is scheduled to testify about the email investigation and the decision not to pursue charges.
Comey announced his recommendation on Tuesday despite finding that Mrs. Clinton and her top aides were "extremely careless" in their distribution of classified information across unsecured email networks.
The apparent contradiction in Comey's recommendation is expected to be the focus of sharp, bipartisan questioning at the hearing. But it is unclear whether Comey will be willing to provide any additional details about the investigation or the process investigators used to reach their conclusions.