Brussels returns to normal after earlier lockdown
Comments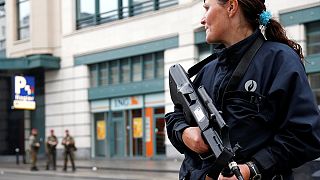 Alarm raised at rush-hour on Tuesday
City 2 shopping centre and area sealed off
26-year-old man arrested

What is happening?
The Brussels prosecutor says no explosives were found on a man arrested in an anti-terrorism operation in the centre of the Belgian capital.
The situation is under control
A man had earlier contacted police to say he was strapped with explosives that were rigged to detonate remotely.
Streets around the City 2 shopping centre in Brussels were sealed off after the alarm was raised.
Bomb disposal experts were sent to the scene.
"Salt and biscuits"
The Belgian authorities now say it appears to have been a false alarm.
The prosecutor's office says the suspect appeared to be wearing a fake suicide belt.
The city's Deputy Prosecutor told reporters the man is known to police and is known to have psychological problems.
"He was also involved in a federal prosecution case in 2014," Rym Kechiche added.
"Recently, he has contacted police to say he is being forced to go to Syria to fight for ISIL."
Suspect arrested in anti-terror op City2 shopping mall wearing fake explosive vest: prosecutors. <a href="https://twitter.com/POLITICOEurope">POLITICOEurope https://t.co/iH5mcEVrDk

— Zoya Sheftalovich (@zoyashef) June 21, 2016
The AFP news agency is reporting that officers found the belt was full of "salt and biscuits".
Two men are currently being questioned by police.
Tension high in Brussels
The Belgian capital remains on high alert three months after three ISIL suicide bombers detonated their devices at Brussels Airport and on a metro train.
32 people were killed and scores injured.
Belgium remains on a "level three" security alert, meaning there is a possible and likely threat.
Réunion terminée au Centre de crise. Niveau 3 et mesures de sécurité restent inchangées #city2

— CrisisCenter Belgium (@CrisiscenterBE) June 21, 2016
The highest threat level is level 4, which means the threat is "serious and imminent."
Crisis Centre meeting
Belgium's Crisis Centre, which oversees security matters, convened to discuss this morning's incident.
Prime Minister Charles Michel and Interior Minister Jan Jambon were present.
What they are saying
"For the moment, the situation is under control," – Belgian Prime Minister Charles Michel.