One in every 113 people in world is displaced or a refugee - UN
Comments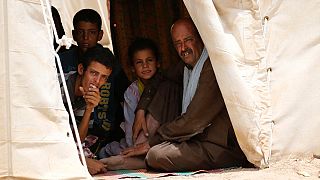 A record 65.3 million people are currently displaced around the world, according to the United Nations High Commissioner for Refugees (UNHCR).
That figure, which jumped from 59.5 million in 2014, means that one in every 113 people on the planet is now a refugee, asylum-seeker or an internally displaced person within a home country.
Global displacement has roughly doubled since 1997 – and risen by 50 percent since 2011 when the Syrian conflict began.
2015: 65.3m weredisplaced, comparedto 59.5m just12 monthsearlierhttps://t.co/tQ6qYm69orpic.twitter.com/kF18jXsaXD

— UN RefugeeAgency (@Refugees) June20, 2016

The UNHCR released its report on Monday, 'World Refugee Day.'

"The number (of displaced people globally) in the last year has gone up by 10 percent. We are now at 65 million people," UN High Commissioner for Refugees (UNHCR) Filippo Grandi told reporters.

"Two thirds are internally displaced people, the most difficult to reach, one third are refugees, 90 percent are in middle income countries or in poor countries, 50 percent of the refugees are children."
In 2015 over 65 mil people were displaced – let's do more to tackle causes https://t.co/nOYQOoDVWR#WorldRefugeeDaypic.twitter.com/mSS9YtMvSO

— World Vision UK (@WorldVisionUK) June 20, 2016
More than half of all refugees came from three countries – Syria, Afghanistan and Somalia – the UN report found.
Turkey was the top host country for the second year running, taking in 2.5 million people – nearly all from neighbouring Syria.
Afghanistan's neighbour Pakistan took in 1.6 million people, while Lebanon, next to Syria, hosted 1.1 million.
Grandi said that richer, more peaceful, states should do more to help refugees, rather erecting barriers and limits.
"Barriers are rising everywhere and I am not just talking of walls. In fact, in the end, the walls are not so many," he said.
"But I am talking about legislative barriers that are coming up, including in countries like in the industrialised world that have been for a long time bastions of principles, principle in defending the fundamental rights linked to asylum."
Grandi said Europe cannot turn away from the refugee crisis.
"There is no plan B for Europe in the long run," he said. "Europe will continue to receive people seeking asylum. Their numbers may vary… but it is inevitable."