Haitians hail new electoral commission
Comments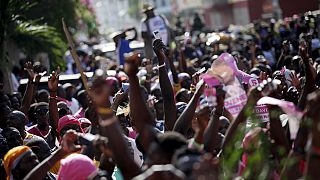 Thousands of Haitians have come out in support of a five-member commission, preparing to evaluate last year's contested presidential election.
Caretaker president Jocelerme Privert has been slow in setting it up attracting criticism from lawmakers.
However voters say they want the commision to report to end the current political uncertainty.
Under the accord that helped put Jocelerme Privert in office, Privert was supposed to make way for a voter-approved president May 14 following a late April election.
But his provisional administration was slow to act and only recently appointed a commission to verify contested elections held last year that many Haitians believe were rigged to benefit Tet Kale, the party of previous President Michel Martelly.
Lawmakers aligned with Tet Kale are demanding Privert's resignation, accusing him of putting up obstacles so he can hold onto power.
The impasse is a reminder of the fragility of democracy in one of the poorest and most unequal countries in the world.