Canada wildfires spread south, state of emergency in place
Comments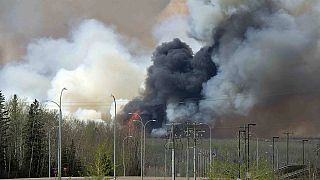 A huge wildfire raging near Fort McMurray in Canada has spread south, although a forecast of cooler temperatures and possible rain has raised hopes the blaze can start to be controlled.
The entire province of Alberta is under a state of emergency.
Some 88,000 people have been forced to evacuate the city, while over 1,600 homes and other buildings have been destroyed.
PHOTOS: Canada's Fort McMurray wildfire grows fivefold. https://t.co/H8QMWahYbmpic.twitter.com/clB32s5N9h

— Reuters Top News (@Reuters) May 5, 2016
No casualties have been reported as a result of the fires, however at least one fatal vehicle crash has occurred along the evacuation route.
Areas of Fort McMurray not yet burned "but this fire will look for them & it will take them" https://t.co/wN6GInMnJspic.twitter.com/dMSBpHz2rs

— New York Times World (@nytimesworld) May 5, 2016
A number of major pipelines have been closed in the oil-producing region, with the blaze halting up to a third of Canada's daily crude capacity.
Fort McMurray wildfire: state of emergency declared as 1,600 buildings engulfed in flames  https://t.co/cTBk7zSg5dpic.twitter.com/2MuE7ZOdmU

— Telegraph News (@TelegraphNews) May 5, 2016