Presidential hopefuls Trump and Clinton shape up as they head for the November 8 showdown
Comments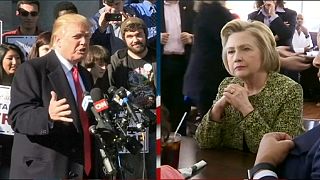 With each vote it becomes more clear – the battle for the US presidency looks like being between Donald Trump and Hillary Clinton. Both the Republican and Democrat favourites are already turning their attention to each other for the November 8 showdown.
"Now, the other day Mr. Trump accused me of playing the 'woman card.' Well if fighting for women's healthcare and paid family leave and equal pay is playing the 'woman card,' then deal me in," proclaimed Hillary Clinton to her supporters at a rally in April.
Donald Trump has his views on how he will treat women.
" I will be so much better to women than Hillary Clinton is. So much better. On healthcare issues, and you know what else? On the protection of our country. Because ultimately that's one, two and three. We gotta protect our country," he told his supporters.
And while Hillary Clinton has given as good as she has got, she now has to adapt her message to win the other battles. To be sure of victory she'll have reach out to the white working class Americans who are the backbone of Trump's support.
With 2165 delegates won Clinton seems all but assured of the Democrat nomination. She needs just 2,383 delegates to claim victory.
Trump has the wind in his sails… and Hillary in his sights.
"I don't know if you heard because the press won't tell you this but a new poll just came out a few hours ago the Rasmussen poll and I'm beating Hillary Clinton and that's good, that's good, we're beating her," he trumpeted earlier this month at a rally.
He's already bagged 996 delegates and needs just 1,237 to secure the Republican nomination.
The state of Indiana is crucial because it yields 57 Republican delegates and 83 on the Democrat side, plus nine super-delegates who have a free vote at the Philadelphia nominating convention
Sure of her victory over Bernie Sanders, Hillary Clinton has already begun wooing his supporters for the right to take over Barack Obama.
"The leading Republican contender is the man who led the insidious birther movement to discredit the president's citizenship. We cannot let Barack Obama's legacy fall into Donald Trump's hands," said Hillary Clinton