Five strange questions asked to Vladimir Putin, and his answers
Comments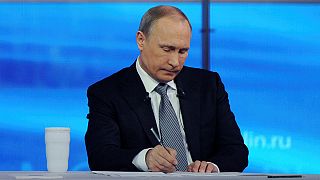 Following Vladimir Putin's annual public question and answer session, we look at five of the most unusual questions he was asked, and how he answered.
As the questions and answers can be rather long, we have summarised.
1) Last year, you were asked if you would save Barack Obama if he was drowning, so here is the question: if Poroshenko and Erdogan were drowning, who would you save first?
I don't know what to say, if someone has decided to drown himself, it's not possible to save him. But you can always hold out your hand in friendship if he is willing to accept.
His reaction pic.twitter.com/5Wb9oJX509

— euronews (@euronews) 14 April 2016
2) We learned recently that your ex-wife has got remarried. When will you announce some news about a new first lady?
You choose the president and the prime minister primarily to work, and not to talk about their private life. But I understand that people are interested. Maybe, once something has happened, I'll answer that question.
3) If you had a goldfish like in Pushkin's fairy tale, what would your three wishes be?
You have to work for yourself and not rely on the goldfish and its three wishes.
4) Which drugs are you taking when you fall ill – Russian or imported?
First of all I rely on prevention and trying not to get ill. I exercise and do sport to keep myself in shape. And I get vaccination, like against flu. But if I fell ill I take whatever doctors give me – both Russian-made and foreign-produced drugs, but always from the low-cost range.
5) Do you ever swear, use rude language or expletives? Against whom?
I have to confess, that I do swear and use bad language. But only at myself. Well, that's part of Russian cultural heritage and tradition. Do I ever swear at subordinates? Yes, but again it's because I'm angry at myself.