Brussels airport set to reopen on Sunday after accord struck on security
Comments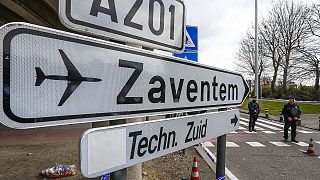 Brussels airport is set to reopen on Sunday following an agreement between airport police and the government over security in the wake of the March 22 bomb attacks.
The sticking point that all passengers be screened on arrival has been resolved.
Hugo Cloetens, an Airport police (ACV) union representative, explained: "We want metal detection, so that somebody with suspicious objects can already be detected before he enters the terminal.
Now that person is only being brought to a halt right before he goes to the plane or border control but in the meantime he has crossed the whole airport building".
The union demands can be read in full here .
The agreement to beef-up security also included an injection of € 2 million to buy new security equipment (including cameras that capture car registration plates) as well as 200 soldiers to work alongside the police.
In the longterm the authorities are looking at closing the passenger drop-off zone and restricting all parking at a 100 metre perimeter from the entrance.
"The solution we reached is one that takes into account everybody's interests, especially the security interests of travellers and the workers on site, as well as the economic interests," Vincent Gilles, president of the SLFP, the largest police union in Belgium, told reporters.
Zaventem has been closed since the attacks which claimed the lives of 32 people.
A temporary infrastructure will allow a partial restart of flights, but the airport will only operate at 20 per cent capacity.
Brussels Airlines estimated the cost of full closure at up to five million euros per day.