'Nightmare over,' Palmyra to be mostly restored by end of 2016
Comments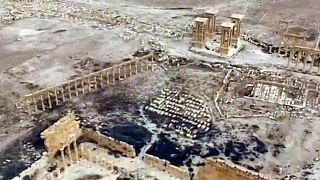 "The nightmare is over for Palmyra," says Syria's Head of Antiquities.
Mamoun Abdulkarim said the city of ancient temples will be mostly restored by the end of 2016,
"We expected the worst because of the liberation fighting but I think the nightmare is over. The panoramic picture of Palmyra is fine," said Abdulkarim.
The government will take "precautionary measures in order not to let Palmyra fall again," he added.
Government troops, assisted by several other nations," recaptured the site from the ISIL militant group":http://www.euronews.com/2016/03/27/isil-militants-driven-out-of-ancient-syrian-city-of-palmyra/ at the weekend (March 26-27).
It had seized the city in 2015, blowing up and heavily damaging a number of temples and other relics.
Losing Palmyra is one of ISIL's biggest setbacks since 2014, when it declared a caliphate across large parts of Syria and Iraq.
UNESCO described the site as the crossroads of several civilisations and said it was one of the most important cultural centres of the ancient world.